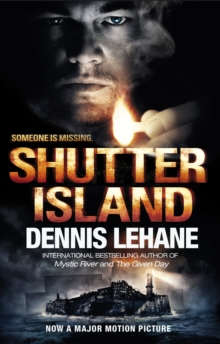 Description
Tie-in to the major motion picture, released on 12th March 2010. US Marshal Teddy Daniels has come to Shutter Island, home of Ashecliffe Hospital for the Criminally Insane, to find an escaped murderer named Rachel Solando. As a killer hurricane bears down on the island, the investigation deepens and the questions mount.
How has a barefoot woman escaped from a locked room?
Who is leaving them clues in the form of cryptic codes? And what really goes on in Ward C? The closer Teddy gets to the truth, the more elusive it becomes. And the more he begins to believe that he may never leave Shutter Island. Because someone is trying to drive him insane...
Information
Format: Paperback
Pages: 416 pages
Publisher: Transworld Publishers Ltd
Publication Date: 28/09/2006
Category: Crime & mystery
ISBN: 9780553824483
Free Home Delivery
on all orders
Pick up orders
from local bookshops
Reviews
Showing 1 - 5 of 6 reviews.
Previous | Next
Review by whirled
16/06/2015
What reader with even a vague interest in crime fiction wouldn't be enticed by this premise? Two US marshals - one with the obligatory Mysterious And Tragic Past - are sent to investigate the disappearance of a patient from a mental institution located on a remote island in Boston Harbor. During a hurricane. Met by distinctly uncooperative staff who seem intent on obscuring the truth. It sounds like a great page-turner, and it is. What a shame Dennis Lehane decided to wrap things up with one of the most hackneyed plot devices in fiction.So close, and yet so far.
Review by Kerryholmes
16/06/2015
Although I enjoyed this book, it took me a little while to get into, however i am glad I did. Lots of twists and turns to keep you interested.
Review by cappybear
16/06/2015
A fast paced, clever novel, not so much a who dunnit as a whodidwhat, with strong characterisation and intelligent dialogue. The author builds up the suspense until the end, and writes about the relationship between Teddy and Dolores with great senstivity. Not the sort of book I normally read, but I'm glad I did.
Review by kaydern
16/06/2015
Intriguing story, it grips you and drags you all the way to the end! I found this to be a fast easy read, but much as it pains me I would suggest watching the movie instead. Wait! Before you shun me for blasphemy, hear me out.First point: I said the book is a fast read; to be more accurate, it's short. I think it took me under four hours to read, however the movie adaptation is still shorter. That alone is a terrible reason to miss out on a book though.Second Point: The movie plot is almost identical to the book plot. You're not missing a single detail by watching the movie instead. In fact, I would argue that the movie does a better job immersing you the creepy crawly stuff.
Review by PilgrimJess
16/06/2015
Personally I felt rather let down by the book as a whole. I felt that the plot idea was an interesting one but in the end I feel it failed to really deliver. The main character Teddy Daniels was on the whole well written and you felt a certain empathy for him but in truth I was about 2/3 in to the book before it really gripped me. Then,perhaps because it had been so heavily trailed as having one, I worked out the final twist about the same time and as such felt rather disappointed with the ending, a little cheated almost.It could have been so much better but ultimately I felt it failed to really deliver. Others will no doubt disagree