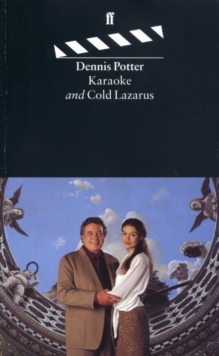 Karaoke & Cold Lazarus : introduced by the author
Paperback / softback
Description
'Karaoke and Cold Lazarus are as fitting a summation as they are a testament both to my character and to my career as I should ever want.' Dennis PotterIn the first part, Karaoke, Daniel Feeld, a writer, is in a physical crisis: he is dying.
He more than half-imagines that something he has recently written has escaped into the world outside. Or is he imagining it? Fact and fiction collide. In this extremity, he has to struggle back towards the relationships and understandings he thought he had managed to do without.
In the meantime, the screenplay he's written is being arranged by the director who is blinded by his lust for the leading lady - who has her own secret life and a desire for revenge on the sadistic karaoke club owner who glassed her mother's face.The second part, Cold Lazarus, is set 400 years in the future, where Feeld's cryogenically preserved head is used for historical and social research purposes until an American media tycoon realizes the astronomical ratings potential of a TV show where the 'real' twentieth century history of Daniel Feeld's life, via his chemically induced memories, can be fed to millions of viewers.
Whilst Daniel's 'memories' ebb and flow and the TV moguls fight over him, a dissident organization of Luddites, R.O.N. (Reality or Nothing), seeks to return to what they believe to have been a gentler age - the twentieth century.
Information
Format: Paperback / softback
Pages: 288 pages
Publisher: Faber & Faber
Publication Date: 15/04/1996
Category: Film scripts & screenplays
ISBN: 9780571174782
Free Home Delivery
on all orders
Pick up orders
from local bookshops