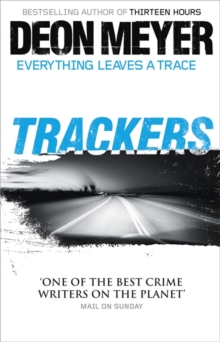 Description
A housewife running from years of domestic abuse. A bodyguard hired to escort a smuggled rhinoceros. A group of Islamic terrorists based in a quiet residential street.
A secret government agency threatened with amalgamation within a bigger department.
A retired policeman trying to get used to his new career in the private sector.Each of these strands of a brilliant narrative is populated with superbly-drawn characters, and woven into a stunningly exciting drama by the undisputed king of South African suspense fiction.
Not only a heart-pounding thriller, but also a love story and a fabulous kaleidoscopic picture of South African society, this is the finest novel yet from an author whose reputation is growing all around the world.
Information
Format: Hardback
Pages: 496 pages, Two-page map
Publisher: Hodder & Stoughton General Division
Publication Date: 01/09/2011
Category: Thriller / suspense
ISBN: 9781444723656
Other Formats
EPUB from £4.99
Paperback from £7.85
Free Home Delivery
on all orders
Pick up orders
from local bookshops
Reviews
Showing 1 - 1 of 1 reviews.
Review by smik
16/06/2015
I found TRACKERS a challenging book to read but all my "problems" are probably minor when you consider what Deon Meyer has attempted to do, and succeeded in doing. The book's length and structure create complexity.Another reviewer talks about the roller coaster ride you get when the novel presents a series of seemingly disconnected events that involve rhino smuggling, gang warfare, the FIFA soccer tournament and Al-Qaeda threats, and then get muddled up with intelligence gathering. The reader knows that somehow all of these things must jell together and it is almost with a sigh of relief that you welcome a familiar face, Mat Joubert, Bennie Griessel's boss in earlier books. You just know if anyone can get you out of this mental mess, then Mat can.The novel is set in a South Africa that has "gone wrong". Mat Joubert for example has resigned from a police force that he feels has lost its way, where he has become an insignificant and ineffective cog, but he comes to realise his new job is no better. But when he was inside, the last two, three years, another kind of loss had slowly overcome him –a disillusionment, a disappointment, a powerlessness, a realisation of potential leaking away, possibilities lost. He, who had been so positive to begin with, who believed the police service could get better, could adapt to the new challenges, new realities. He had supported the ideal wholeheartedly and enthusiastically, the ideal of a SAPS which reflected the population demographic, which deployed affirmative action to cancel out old injustices, which transformed to a proud, effective, modern instrument of government. Only to see how it was slowly poisoned by politics and good intentions and haste and stupidity. And, in the end, by greed and corruption. And when he spoke up, when he warned and advised and pleaded, they marginalised him, pushed him out of the pack, made it clear that they no longer had any use for him. A lifetime's work. For nothing. No, no, he mustn't think like that. Take the case of Milla Strachan, a housewife, once trained as a journalist, but on the sidelines with home duties for twenty years. Gets a job with a government agency that assembles "intelligence" reports. Those who employ her have an agenda in their recruitment - they really want people who won't ask questions, despite the important nature of their work. "You do realise, we are all rejects," said Jessica the Goddess as she poured more red wine, her words fuzzy from the alcohol. "All those questions you answered during the interviews, all the psycho-babble like 'are you an ambitious person?', it's all bullshit. All they wanted to know was, are you a reject. They like that. A lost cause, an outsider. Damaged goods, well isolated."And as a result their reports become misinformation. Those at the writing level often see connections but their incompetent managers jump to the wrong conclusions and innocent people are credited with traitorous intent and become the target of surveillance and expensive "operations".There's a lot to think about in TRACKERS. It is as if Deon Meyer has all these ideas boiling inside him - things he must write about - but only an annual book to do it in. This gives TRACKERS a voice that goes beyond crime fiction.