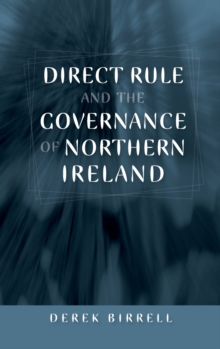 Direct Rule and the Governance of Northern Ireland
Hardback
Description
This is the first comprehensive study of direct rule as the system of governance which operated in Northern Ireland for most of the period between 1972 and 2007.
The major institutions of governance are described and examined in detail, including the often neglected sectors of the role of the Westminster parliament, the civil service, local government, quangos, ombudsmen offices, cross-border structures and the public expenditure process. The book explains how the complex system covering transferred, reserved and excepted functions worked and provided viable governance despite political violence, constitutional conflict and political party disagreements.
In addition, a comparison is drawn between direct rule and devolution, analysing both the positive and negative impact of direct rule, as well as identifying where there has been minimal divergence in processes and outcomes.
It will prove an invaluable reference source on direct rule and provide a comparative basis for assessing devolution for students of public administration, government, politics, public policy and devolution. -- .
Information
Format:Hardback
Pages:288 pages, Illustrations, black & white|Tables
Publisher:Manchester University Press
Publication Date:01/05/2009
Category:
ISBN:9780719077579