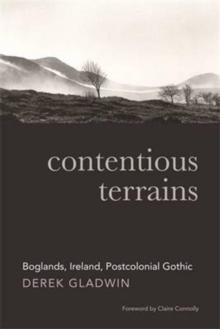 Contentious Terrains : Boglands in the Irish Postcolonial Gothic
Hardback
Description
This book provides a political and geographical history of how boglands (or bogs) are represented in modern and contemporary Irish literature and culture (1880s-present).
Drawing on a range of Irish writers, including Bram Stoker, Frank O'Connor, Sean O'Faolain, Daniel Corkery, Seamus Heaney, Marina Carr, Deirdre Kinahan, Erin Hart, and Tim Robinson, Contentious Terrains argues that the destabilizing capacities of the bog provide a space to explore historically fraught colonial tensions and social struggles through the postcolonial Gothic form.
This study shows how bogs are more than mere landforms in the Irish landscape, but a kind of narrative that reveal some of the potentially unanswered questions in Irish literary history.
Cultural and literary Gothic writings featuring bogs uncover some of the underlying questions during and after colonization in Ireland, and show how they relate to the larger social process in the development of modern Irish literary history, particularly during the Land Wars of the 1880s, the Irish War of Independence (1919-1921), the Troubles (1960s and 1970s), and the Celtic Tiger (1990s and 2000s).Contentious Terrains employs a cross-disciplinary scope and examines a diverse range of Irish writers in various literary genres, thus testifying to the pervasiveness and range of the bog's allure in Irish literary history and culture.
Free Home Delivery
on all orders
Pick up orders
from local bookshops