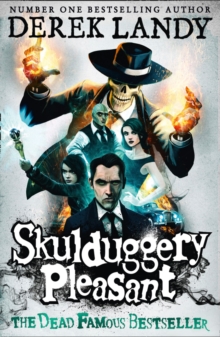 Skulduggery Pleasant
Paperback
Description
Meet the great Skulduggery Pleasant: wise-cracking detective, powerful magician, master of dirty tricks and burglary (in the name of the greater good, of course). Oh yeah. And dead. Then there's his sidekick, Stephanie. She's... well, she's a twelve-year-old girl. With a pair like this on the case, evil had better watch out... "So you won't keep anything from me again?"He put his hand to his chest. "Cross my heart and hope to die.""Okay then. Though you don't actually have a heart," she said."I know.""And technically, you've already died.""I know that too.""Just so we're clear." Stephanie's uncle Gordon is a writer of horror fiction.
But when he dies and leaves her his estate, Stephanie learns that while he may have written horror, it certainly wasn't fiction. Pursued by evil forces intent on recovering a mysterious key, Stephanie finds help from an unusual source - the wisecracking skeleton of a dead wizard. When all hell breaks loose, it's lucky for Skulduggery that he's already dead.
Though he's about to discover that being a skeleton doesn't stop you from being tortured, if the torturer is determined enough. And if there's anything Skulduggery hates, it's torture...
Will evil win the day? Will Stephanie and Skulduggery stop bickering long enough to stop it?
One thing's for sure: evil won't know what's hit it.
Information
Format: Paperback
Pages: 384 pages
Publisher: HarperCollins Publishers
Publication Date: 03/09/2007
Category: Horror & ghost
ISBN: 9780007241620
Other Formats
Hardback from £8.50
Paperback from £5.79
EPUB from £0.99
from £6.59
Free Home Delivery
on all orders
Pick up orders
from local bookshops
Reviews
Showing 1 - 5 of 7 reviews.
Previous | Next
Review by kings7
16/06/2015
This is the type of book I enjoy
Review by magemanda
16/06/2015
Skulduggery Pleasant is the debut novel by Derek Landy, and on this evidence I believe he should have many successful books ahead of him. He tells the tale of a wise-cracking skeleton detective, who befriends a young girl called Stephenie Edgley when her uncle is murdered. They are from then drawn into a world of magic and mystery and uncover a plot by the leading dark wizard to bring back old Gods and murder all those without magic.The plot moves at breakneck speed, with sparkling dialogue between Skulduggery and Stephenie. It is easy to follow and twists many cliches in the pursuit of entertainment. The skeletal detective at the heart of the novel is by far the best part of it all - never less than interesting, witty and good-humoured. I would greatly enjoy reading more adventures involving him.Stephenie is resourceful, brave and cool-headed - a fine role model for girls who pick up this book. In fact, the strength of these two characters cause the others to fall into their shadow and the secondary characters are never truly fleshed out to the point where you would care about them.I also have complaints about the bad guy who, despite my earlier words, is terribly cliched. He is paper-thin in terms of characterisation, never really gives reason for his motives, and is used more for comedy effect than tense moments.It is easy to see that Landy has a background in martial arts because his fight scenes are effective and efficiently-written, showing us clearly how they would play out.Lastly, I would comment that the system of magic, while unoriginal, shows signs of being used to a greater extent in novels to follow.Altogether this is a blast of a debut novel, setting the scene in an exciting manner for more tales of Skulduggery Pleasant.
Review by princessponti
16/06/2015
Fun packed action / adventure book, when Skulduggery Pleasant, the snappy dressing skellington detective first enters into Stephanie's life, things will never be the same. Lots of one liners and sarcasm fill this book in between the fast paced action. Some of the characterisation for me was a little out, with the two main characters feeling too similar, and some of the baddies weren't as scary as they could have been - that aside though, this was a fun book to read, and for its target audience its probably near perfect!
Review by jiona
16/06/2015
Fantastic book. Great fun, lots of action and a sarcastic skeleton detective driving the story along. Essential reading for anyone who wants to read a book aimed at young people, but that will be fun and rewarding for anyone.
Review by limoncello
16/06/2015
Fast-moving fun. Love the names and the plot twists. The odd sexist comment.I enjoyed reading this book and can understand it's appeal to teenagers.
Also in the Skulduggery Pleasant series | View all