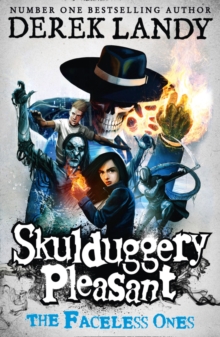 The Faceless Ones
Paperback
Description
Third bone-breaking, belly-busting adventure in the series that puts the "funny" back in... um... funny series. That didn't really work, did it?If you've read the previous Skulduggery books then you know what the Faceless Ones are - and if you know what the Faceless Ones are, then you can probably take a wild guess that things in this book are going to get AWFULLY sticky for our skeletal hero and his young sidekick.If you haven't read the previous Skulduggery books then what are you doing reading this?
Go and read them right now, so that you know what all that stuff in the previous paragraph was about.Done?
Good. So now you're on tenterhooks too, desperately awaiting the answers to all your questions, and instead you're going to have to wait to read the book.
Sorry about that.
Information
Format: Paperback
Pages: 400 pages
Publisher: HarperCollins Publishers
Publication Date: 01/08/2009
Category: Horror & ghost
ISBN: 9780007302161
Other Formats
EPUB from £3.99
CD-Audio from £12.59
from £6.59
Free Home Delivery
on all orders
Pick up orders
from local bookshops
Reviews
Showing 1 - 3 of 3 reviews.
Review by lilibrarian
16/06/2015
Book 3 in the Skulduggery Pleasant series where the skeletal detective and his teenage sidekick once again save the world from evil magic.
Review by phoebesmum
16/06/2015
The third book in this superior YA series; detective Skulduggery Pleasant, who just happens to be a skeleton but doesn't let that slow him up, and his plucky teenage sidekick Stephanie/Valkyrie Cain, are now working without official sanction. They don't let that slow them up either and, needless to say, they run rings around the official channels. This time, something is targeting Teleporters, with an end to bringing about the end of the world. Again. Routine stuff for Skulduggery; what can possibly go wrong?What indeed.Although this series is head and shoulders above most of its contemporaries, if for nothing else but the humour and the snappy dialogue, book three does exhibit some bucket-too-often-to-the-well symptoms, with an over-reliance on frequent and repetitive fight scenes. There are hints of something more interesting developing, though, in terms of Stephanie's over-dependence on her reflection, which she uses to live her routine life while she's out fighting crime, and the ending promises to shake up book four dramatically.
Review by wyvernfriend
16/06/2015
I felt kinda lost in this story, I didn't connect enough with the characters and it just left me feeling a bit meh.Skulduggery and Valkyrie investigate the deaths of teleporters and find that they're getting fewer and fewer. It would appear that someone plans to bring the faceless ones back and the powers that be don't believe Skulduggery and in fact are getting in the way of solving the crimes.It's not bad, probably if I had read it closer to the last one I would have enjoyed it more but the series is losing a push for me to keep reading. I do plan to read book 4 at another stage but right now it can wait.
Also in the Skulduggery Pleasant series | View all