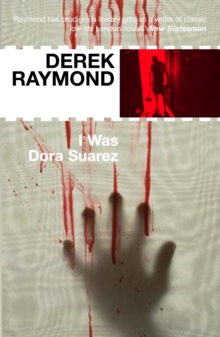 I Was Dora Suarez : Factory 4
Paperback
Description
An axe-wielding psychopath carves young Dora Suarez into pieces and smashes the head of Suarez's friend, an elderly woman.
On the same night, in the West End, a firearm blows the top off the head of Felix Roatta, part-owner of the seedy Parallel Club. The unnamed narrator, a sergeant in the Metropolitan Police's Unexplained Deaths division, develops a fixation on the young woman whose murder he investigates. And he discovers that Suarez's death is even more bizarre than suspected: the murderer ate bits of flesh from Suarez's corpse and ejaculated against her thigh. Autopsy results compound the puzzle: Suarez was dying of AIDS, but the pathologist can't tell how the virus was introduced.
Then a photo, supplied by a former Parallel hostess, links Suarez to Roatta, and inquiries at the club reveal how vile and inhuman exploitation can become. I Was Dora Suarez is the fourth book in the Factory series
Information
Format: Paperback
Pages: 208 pages
Publisher: Profile Books Ltd
Publication Date: 01/03/2008
Category: Crime & mystery
ISBN: 9781852427993
Free Home Delivery
on all orders
Pick up orders
from local bookshops
Reviews
Showing 1 - 4 of 4 reviews.
Review by BruderBane
16/06/2015
"I Was Dora Suarez" by Derek Raymond was an incredibly tough read. This was not due to the language, even though the slang was tough at times and not due to the horror, which was pretty unspeakable. It was not even due to the fact that we never learn the name of our hero and that Mr. Raymond's unnamed etiolated paramour echoed the Continental Op. This novel has a sort of visceral surreal ennui which pervades the story and brings about a sense of dread and confusion. At any rate, Mr. Raymond constructs a challenging hard-boiled novel which entertains and horrifies but perhaps is not my cup of tea. A true exploration of the Nietzsche quote "If one looks into the abyss…."
Review by datrappert
16/06/2015
The fourth book in Raymond's Factory Series is noted for making the author's editor throw up while reading it. This is very gritty stuff, concerning a sexually dysfunctional serial killer, and the worst sort of exploitation of women, but it didn't quite have that effect on me. For its first half, it has the semblance of sticking a little closer to reality than the first three entries in the series, but like those books, we are clearly being manipulated by the nameless detective who serves as our first person narrator. In my reading, even the parts of the book where he isn't present are assumed to be his after-the-fact recreation of what happened. He is aided in this by one of the victims' journal, where she recounted the desperate circumstances of her life in the months leading up to her death. While the nameless detective always becomes deeply involved with the murders he sets out to solve, in this case, he actually falls in love with the journal writer, Dora Suarez. The presence of the writings of someone dead most or all of the book mirrors Raymond's approach in the first Factory novel, He Died with His Eyes Open. In that case, the victim was a writer, and the philosophical musings in his journal are a little easier to accept than the similarly lofty writing of Dora Suarez, who while not an uneducated person, would not seem quite capable of the writing Raymond attributes to her.But -- suppose for a minute that there isn't a journal at all, and this is just the nameless detective's inner psychodrama as he sets out to avenge a woman that he fell in love with the first time he saw her face? I'm not sure I really accept this interpretation, but it would also explain how the narrator describes in detail the killings that open the book, despite the killer not revealing that level of detail to anyone.This isn't a real problem with this book, however. It is part and parcel of how Raymond writes. The problem is that, when the nameless detective teams with another detective named Stevenson, who is investigating an apparently related murder, the two of them talk and talk and talk. While a lot of this talk is interesting (and grimly amusing), especially when they are threatening those they want evidence from, in the end they just talk way too much. This weakness is compounded by the happenstance way the killer ends up being found. Despite his leaving loads of evidence at the crime scene, in the form of various bodily...compounds, that doesn't play a part in his discovery at all. Even within the semi-fantastic atmosphere that the Factory novels evoke, this is a serious shortcoming since it detracts from the inner logic that makes the first three books so intense.Nevertheless, in his conception and execution, Raymond is so much an outlier among writers of police novels, that this book and its predecessors are absolute must reads, particularly if you have grown tired of the staleness of much of the genre.
Review by clfisha
16/06/2015
17. [I Was Dora Suarez] by Derek Raymond Odd, compelling, brutal, iconic Noir Her sprawling limbs admitted only one image. They were what they could only be–joints of chilling, upset meat–and her bloodstained grin, the fixed, yet slack absence of her dark eyes were the worst of all sentences, the one that condemned a killer by looking past him. Yes, something had gone wrong this time. Opening with one of the best starts I have seen, this forceful, flawed book takes the lid of those salacious tabloid headlines to the reality of evil underneath. A tale of a serial killer, a dying prostitute and an unnamed detective spiralling downwards in the tragedy of his loneliness. It is a book made for impact, a book that veers from haunting description, ugly detail, harsh and ill fitting dialogue. It could easily be accused of being overwrought or of pushing the boundaries too far but as whole, as a messy whole it's much more that these failings. It bleeds honesty, a book that the author couldn't see clearly enough to write ..in writing the book I definitely underwent an experience that I can only describe as cathartic; the writing of Suarez, though plunging me into evil, became the cause of my seeking to purge what was evil in myself. It was only after I had finished the book that I realized this; I was far too deeply involved in the battle with evil that the book became to think any further than that at the time … Suarez was my atonement for fifty years' indifference to the miserable state of this world; it was a terrible journey through my own guilt, and through the guilt of others. from [The Hidden Files]A warning though whilst standalone it is 4th in the iconic Factory series. It is also not a book for those who live for the puzzle as our narrator doesn't detect (no time) he swears, bullies and threatens his way to the truth and who needs a forensics team with this method? The book's faults could drive people crazy but it's not about a perfect crime take. It doesn't matter that peripheral characters are thin, not that the dialogue is lopsided you wonder if he is talking to himself in his insanity or that his constant rudeness is seriously over the top. Flawed though it maybe, it deserves its iconic status and is a must for noir lovers but also for anyone who is interested in the writing craft (bring strong stomach). Recommended I thought as I drove that even though I was too late to save her, if I could solve her death, I might make some contribution to the coming of a time when such a horror would no longer be possible, a time when society would no longer throw up monsters.
Review by missizicks
16/06/2015
Harder going than the previous books in the series, mainly because of the nature of the killer. Well written and not sensationalist in tone, it was still twisted - more so than The Devil's Home on Leave, which is also about a psychopath. I can't say I enjoyed it. It feels more like I endured it.