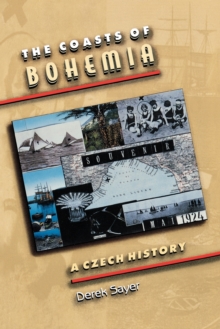 The Coasts of Bohemia : A Czech History
Paperback
Description
In The Winter's Tale, Shakespeare gave the landlocked country of Bohemia a coastline--a famous and, to Czechs, typical example of foreigners' ignorance of the Czech homeland.
Although the lands that were once the Kingdom of Bohemia lie at the heart of Europe, Czechs are usually encountered only in the margins of other people's stories.
In The Coasts of Bohemia, Derek Sayer reverses this perspective.
He presents a comprehensive and long-needed history of the Czech people that is also a remarkably original history of modern Europe, told from its uneasy center.
Sayer shows that Bohemia has long been a theater of European conflict.
It has been a cradle of Protestantism and a bulwark of the Counter-Reformation; an Austrian imperial province and a proudly Slavic national state; the most easterly democracy in Europe; and a westerly outlier of the Soviet bloc.
The complexities of its location have given rise to profound (and often profoundly comic) reflections on the modern condition.
Franz Kafka, Jaroslav Hasek, Karel Capek and Milan Kundera are all products of its spirit of place. Sayer describes how Bohemia's ambiguities and contradictions are those of Europe itself, and he considers the ironies of viewing Europe, the West, and modernity from the vantage point of a country that has been too often ignored.
The Coasts of Bohemia draws on an enormous array of literary, musical, visual, and documentary sources ranging from banknotes to statues, museum displays to school textbooks, funeral orations to operatic stage-sets, murals in subway stations to censors' indexes of banned books.
It brings us into intimate contact with the ever changing details of daily life--the street names and facades of buildings, the heroes figured on postage stamps--that have created and recreated a sense of what it is to be Czech.
Sayer's sustained concern with questions of identity, memory, and power place the book at the heart of contemporary intellectual debate.
It is an extraordinary story, beautifully told.
Information
Format: Paperback
Pages: 464 pages, 56 halftones, 3 maps
Publisher: Princeton University Press
Publication Date: 28/02/2000
Category: European history
ISBN: 9780691050522
Free Home Delivery
on all orders
Pick up orders
from local bookshops
Reviews
Showing 1 - 1 of 1 reviews.
Review by RobertDay
16/06/2015
The title of this book is a quote from Shakespeare: "Thou art perfect then our ship hath touched upon the deserts of Bohemia?" ('The Winter's Tale'. Act 3, scene 3). No, he didn't know where Bohemia was, and didn't much care. 350 years later, a British politician referred to Czechoslovakia as "a far-away country of which we know little". A shame, as we ended up going to war partially on its behalf.This book takes a specific look at Bohemia, which together with Moravia now forms the Czech Republic. Along the way, we learn a lot more about the country that I grew up thinking of as "Czechoslovakia". This book deals with the whole history of that land, through its independence, to its incorporation into the Austro-Hungarian Empire and ends with the absorbtion of Czechoslovkia into the Soviet sphere of inflience after World War II - thus treating the Velvet Revolution of 1989 (which is mentioned in passing) as a wholly new page of history that is still being written.