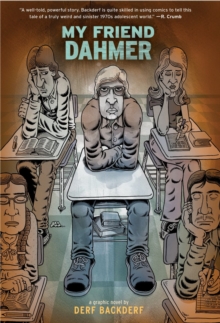 My Friend Dahmer
Paperback
Description
My Friend Dahmer is the hauntingly original graphic novel by Derf Backderf, the award winning political cartoonist.
In these pages, Backderf tries to make sense of Jeffery Dahmer, the future serial killer with whom he shared classrooms, hallways, libraries and car rides.
What emerges is a surprisingly sympathetic portrait of a young man struggling helplessly against the urges, some ghastly, bubbling up from the deep recesses of his psyche.
The Dahmer recounted here, although universally regarded as an inhumane monster, is a lonely oddball who, in reality, is all too human.
A shy kid sucked inexorably into madness while the adults in his life fail him.
The crimes Dahmer committed are incredibly depraved, infamous and unforgettable, but in My Friend Dahmer Backderf provides profound (and at times, even strangely comic) insight into how, and more important, why Jeffery Dahmer transformed from a high school nerd into the most depraved serial killer since Jack the Ripper, coming as close as anyone yet has to explaining the seemingly unexplainable phenomenon of Jeffery Dahmer.
Information
Format: Paperback
Pages: 224 pages, 185 two-colour illustrations
Publisher: Abrams
Publication Date: 01/03/2012
Category: True stories
ISBN: 9781419702174
Other Formats
Hardback from £15.39
EPUB from £15.92
Free Home Delivery
on all orders
Pick up orders
from local bookshops
Reviews
Showing 1 - 5 of 31 reviews.
Previous | Next
Review by pdever
16/06/2015
"My Friend Dahmer" is the fascinating story of what it was like to be Jeff Dahmer's classmate in High School. As you can imagine, Jeff was a strange kid--but not the strangest. Derf tells this story with tremendous care, and insight, informed by deep research. He focuses on details that coalesce into a compelling and intimate view of a very particular time, place, and situation, without failing to ask the big questions: Where were the adults in Jeff's life? How could they have not known he was in trouble? Why didn't they try to do something? Derf's portrayal of adolescent life in a small midwestern town in the late 70s is right on, and his drawing style makes the portrayal practically irresistible. He tells a fascinating story, highlights it with his sharp critical wit (you may know it from his weekly strip "The City"), and mines it for the added depth afforded by the long format graphic novel, all to excellent effect. It's one hell of a book.
Review by alexann
16/06/2015
My Friend Dahmer is a graphic biography (although the author calls it a graphic novel, it's more of a memoir than a novel) by Derf Backderf. Right. What kind of a name is that? He's supposed to be some kind of famous cartoonist...let's Google him! Yes! That fount of wisdom, Wikipedia, says his actual name is John Backderf, but he uses Derf as his pen name. And, indeed, he is well known for creating his rather bizarr-o comic strip, The City. Well, guess what! Derf went to high school--and was actually friends with (as much as anyone could be)--Jeff Dahmer, of serial murder fame. This book recounts Derf's relationship with Dahmer, from the time they first met in 7th grade, until their 1978 high school graduation. The author has fleshed the story out by interviewing other high school friends, and researching deeply into the thousands of pages of interviews that were conducted after Dahmer's arrest in 1991. What results is a gruesome, horrifying story of a young life wasted. It was apparent to Derf from early on in their relationship (I hesitate to say "friendship" because it feels more like Derf and his friends condescended to hang out with Dahmer because he was there, and because he was funny in such a bizarre way!) that nothing about Dahmer was normal. Even the things Dahmer did to make the guys laugh were twisted. And as Derf points out, by high school Jeff seemed to have lost himself--he was either "in character" or totally zoned out on alcohol. There just wasn't much of Jeff left! By the last two years of high school he served, knowingly or not, as the butt of the guys' jokes. It is so obvious that not a single adult paid any attention to him! His father didn't even know he drank! The drawings for this book are absolutely perfect--reminiscent of R. Crumb, but still completely Derf's own. Black and white, with totally strange-looking characters (David Small says they "look like organic robots"), with lots of night scenes--these are places you don't want to go! All in all, I have to say this is the most powerful--and chilling!--graphic novel I've ever read! The scene I'll never forget is when ten years after graduation Derf and some of the guys get together to talk about old times. They get to thinking about some of the weirdos in their class and one of them says, "What about Dahmer?" and after some clever repartee, Derf interjects, "He's probably a serial killer by now!" This moment certainly haunts Derf to this day.Read it! It may not be fun, but, so important!
Review by DeltaQueen50
27/08/2015
Author Derf Backderf tells an eerily nostalgic story about the future serial killer with whom he shared a friendship during his high school years. It seems clear that he and his friends all knew that Dahmer was strange and probably headed for trouble, but this was the 1970's and one just didn't nark on a friend. I use the term friend loosely as during the reading of this book, it seems clear that Dahmer was less of a friend and more of a amusement to Derf and his real friends. Looking at Jeffrey Dahmer as a disturbed teen made for a dark and heavy story. As he wondered around in an alcoholic fog, acting strangely, exhibiting some very odd behaviour one was left wondering how this boy seemed to fly under the radar. Apparently his parents and his teachers were too wrapped up in their own problems to notice his disintegrating behaviour. My Friend Dahmer is an original and creative way to tell this story but I couldn't erase the feeling that the author was trying to ease a little of the guilt he felt at how he had treated Dahmer back in high school. What this book does make one wonder is what if someone had noticed this boy's alienation and had got him the help that he so desperately needed. Would things have turned out differently? I found this a very sad and emotional story about a boy going through the process of becoming a monster.
Review by mamzel
16/06/2015
This graphic novel knocked my socks off. I will never look at a group of teens - or the loner off to the side - the same way ever again!
Review by District13
16/06/2015
Interesting GN from the perspective of a former high school classmate of Jeffrey Dahmer. Pretty sad considering that Dahmer may have been different if someone had taken any interest in his aimless soul. I love the writing style, very different from any other GN I have read.