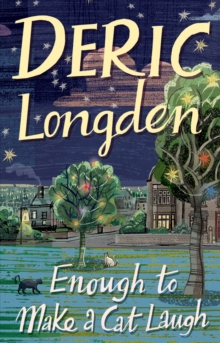 Enough to Make a Cat Laugh
Paperback
Description
Throughout the 1990s, Deric Longden has shared his life with Aileen Armitage and four cats: Thermal, Tigger, Frink and shabby old Arthur. And the cats have found that sharing a life with Aileen can be a very painful business.
She hardly ever trips over them these days, but they are always in danger of being mistaken for a cardigan, or inadvertently locked away in the cellar.
Ever since Thermal came in from the cold to enter his life, Deric has seen his world increasingly taken over by cats.
What with planning their menus, entertaining their friends, listening to their worries and observing their adventures, he has little time left over for his professional life as a writer.
But there are rich rewards. One way or another, the cats that Deric and Aileen share their lives with are an endless source of interest and laughter.
Few writers have found so much enjoyment in the company of cats, and none has written better about their charm, and the fascinating range of their personalities. "Enough to make a Cat Laugh" will enchant cat-lovers everywhere, and give Longden-lovers an unforgettable treat.
Information
Format: Paperback
Pages: 288 pages
Publisher: Transworld Publishers Ltd
Publication Date: 08/05/2007
Category: Autobiography: general
ISBN: 9780552156202
Free Home Delivery
on all orders
Pick up orders
from local bookshops
Reviews
Showing 1 - 2 of 2 reviews.
Review by elliepotten
16/06/2015
This was a re-read for me, but there's nothing so nice as a couple of days of sweet reading with a Deric Longden book. My mum bought me my first Longden many years ago and I would thank her very heartily for the pleasure. Deric is a local man - he grew up in the same town as me, albeit rather before my time - and his books are peppered with Derbyshire places and the occasional phrase my grandparents throw out every once in a while. But this book could be read and enjoyed by anyone. Provided you're a cat lover, that is. Deric lives with his registered-blind wife, the writer Aileen Armitage, and a veritable army of cats. Officially the line up for this book goes like this: Thermal (young white tom, has a pet sultana called Ralph), Tigger (saintly tortoiseshell who lives for her charity work amongst local strays), Arthur (old black cat who has seen it all) and Frink (small white turbocharged kitten). On top of that there are plenty of other felines - and even the occasional canine - dropping by from time to time to join the fun.Deric Longden's gift is to make the most ordinary of days, the most uneventful of situations, into something worth telling, something amusing and insightful and brilliant: a foggy day, a walk to the shop, an afternoon in the study... Oh, and he talks to his cats. In fact, one of the most charming things about his books is the fact that he gives each cat a voice of their own. It sounds eccentric, it sounds ridiculous, but beneath his clever and capable pen it just WORKS.I have read all of these books several times since I was given that first one ('The Cat who Came in from the Cold', where Thermal is introduced to the Longden family for the first time) - and I'll be keeping them to read again. I have a beloved kitty of my own (two, until recently) and I think Longden just perfectly captures what it is to live with a cat, all the humour and heartbreak and companionship and character quirks that make life with such a demanding little member of the family worthwhile. The bottom line? If you like cats, you'll love it!
Review by phoebesmum
16/06/2015
Cosy anecdotes of life in Huddersfield with Longden, his sight-impaired wife, and their eclectic array of felines. Caveat lector: they have four cats when the book begins and only two by the end. Some may consider this a spoiler; I consider it a courtesy warning. I cried. So there.
Also by Deric Longden