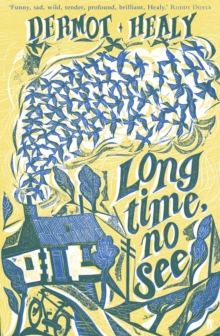 Long Time, No See
Paperback
Description
"Long Time, No See" introduces us to the unforgettable world of Mister Psyche.
In the isolated coastal townland of Ballintra in the Northwest of Ireland Recent school-leaver, occasional worker, full-time companion and Malibu-provider to Uncle Joe-Joe and his friend, The Blackbird, Psyche is a boy on the cusp of adulthood, undone by a recent traumatic event.
Hanging out with men some forty-plus years his senior proves hazardous for Mister Psyche when the appearance of a bullet-hole in Uncle Joe-Joe's window draws him into a series of (mis)-adventures which unsettle and bemuse.
Perhaps The Blackbird is losing it? Or perhaps The General has decided to act on a decades-old grudge?
Whichever way, as the paranoia grabs a creeping hold of Uncle Joe-Joe, his fragile world threatens to collapse. And it is Mister Psyche who must digest this and acknowledge the new world taking shape in the old ...An epic in miniature peopled by a cast of innocents and broken misfits, "Long Time, No See's" lyrical power casts a miraculous literary spell.
Information
Format: Paperback
Pages: 320 pages
Publisher: Faber & Faber
Publication Date: 01/04/2011
Category: Religious & spiritual fiction
ISBN: 9780571210749
Other Formats
Paperback from £7.69
EPUB from £6.39
Free Home Delivery
on all orders
Pick up orders
from local bookshops
Reviews
Showing 1 - 5 of 9 reviews.
Previous | Next
Review by Fluffyblue
16/06/2015
This book took me a little time to get into. I kept thinking, "I'll give it 100 pages", and I'm glad I did because slowly I found myself being immersed in the world of Psyche (or Philip as he properly known). The book is mainly dialogue, but you can feel the irishness oozing out of the writing. The story is touching, yet funny at times, and the characters were brilliantly written. Quite emotional really.
Review by teresa1953
16/06/2015
This is a somewhat puzzling novel. Dermot Healy's writing is quite beautiful, lyrical in a way. The story, however, was disappointing. The author jumps from one occurrence to another and so I found no cohesion in the telling of this tale. Don't get me wrong, the characters are well drawn and the North West Irish dialect becomes very easy to read once you get passed the first quarter of the book. It is this dialect and way of writing which almost made me give up on the novel, but I could not write an honest appraisal of the book without reading it in total. Luckily, and quite suddenly, I found myself "in the rhythm" of the story and couldn't put it down.All the characters are engaging and quite charming. Mister Psyche, our main figure in the novel, has just left school and is extremely close to two elderly male villagers. He has also experienced a recent traumatic event which is not alluded to until well in to the story. Then, when we do discover what happened, it is only referred to in small ways throughout the rest of the book.I kept waiting for something to happen here, and it never did for me. As a portrait of family life, loss and friendship it hit the mark, but I could have done with more "action" and a deeper understanding of the main characters' lives both past and present.
Review by rose_p
16/06/2015
I didn't much like this book. The dialogue is hard to penetrate - and whereas books like Clockwork Orange or The Inheritors suck you in - I felt like this book was aiming for something more Pinter-esque with apparently unrelated and banal dialogue meant to convey emotion, drama and depth.If it wasn't for Early Reviewers, this would have been a five-page-rant book. But I persevered - and so I got to know the characters and events. It passed the time and there were moments of lyricism, but I wasn't sucked into a sense of place or time, I didn't care that much about the characters, and the plot didn't really work for me. If I were to recommend it to anyone, I'd go for someone who knows and likes the countryside/life in a small community, and someone who's up for a slightly slower read and happy to sift through the dialogue to appreciate the drama and character sitting behind it.
Review by arkgirl1
16/06/2015
This is a slow-paced novel that gradually fills you in on the life of Philip [Mister Psyche], his family, friends and the community of the small fishing town in a lyrical, poetic way but not with a strong narrative drive. Philip has just finished school exams and is now spending much of his day with Uncle JoeJoe and the Blackbird , 2 engaging characters that put the world to rights over their whisky [and malibu], or doing odd jobs in the local community. Philip's thoughtfulness and care for these 2 old men is endearing and as we feel his attachment to them we are drawn into their lives. The different strands are gradually unravelled but I found I wanted to know more about plot points that are skimmed over and there are some aspects of the story that appear to be building up only to end in dead-ends. Healy does create a location that is easy to visualise and I feel that his characters have distinctive voices but the story telling can be frustrating at times with its occasionally rambling style. I think there is much to appreciate and I did find the second half of the book moved at a faster pace but if you like fast plot driven reads this isn't for you.
Review by sanddancer
16/06/2015
 I thought I would love this book - from the description it sounded like a combination of Flan O'Brien's Third Policeman, Dan Rhodes' Gold or Paul Murray's books. But I was hugely disappointed. The book consists of a lot of dialogue which normally makes for a quick and easy read, but not in this case. Here it felt like constantly eavesdropping on conversations where I'd arrived half way through and I was never entirely sure who was saying what. If I was to be charitable, I'd say he has a good ear for dialogue as I could hear the Irish brogue as I read the conversations. The blurb on the back has Anne Enright proclaiming Healy as a "writer's writer" - that he may be, but ont he basis of this, he certainly isn't a readers writer, which surely is more important?