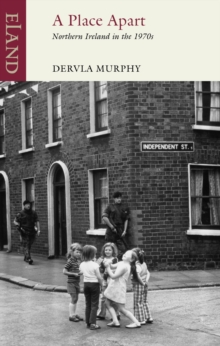 A Place Apart : Northern Ireland in the 1970s
Paperback
Description
A Place Apart is a remarkable geographical and psychological travelogue that rises above history, politics, theology and economics.
Created by a southern Irishwoman, cycling into the mayhem of Northern Ireland in order to try and sort out her own opinions and emotions about this troubled land.
She came equipped with her own childhood experiences of murder and Republican martyrdom, but was otherwise unfettered by sectarian loyalties and armed with a delightful curiosity, a fine ear for anecdote, an ability to stand her own at the bar and penetrating intelligence.
She travelled extensively through both town and country, frequently finding herself in horrifying situations, and sometimes among people stiff with hate and grief: but equally, she discovered an unquenchable spirit everywhere that refused to die. Other Dervla Murphy titles published by Eland. Original Hardbacks: A Month by the Sea: Encounters in Gaza, The Island that Dared: Journeys in Cuba, Eland Classics: Wheels within Wheels, Full Tilt: From Ireland to India with a Bicycle, In Ethiopia with a Mule, Where the Indus is Young: A Winter in Baltistan, Tibetan Foothold, The Waiting Land: A Spell in Nepal, On a Shoestring to Coorg.
Information
Format: Paperback
Pages: 320 pages
Publisher: Eland Publishing Ltd
Publication Date: 31/10/2014
Category: Cycling
ISBN: 9781780600116
Free Home Delivery
on all orders
Pick up orders
from local bookshops