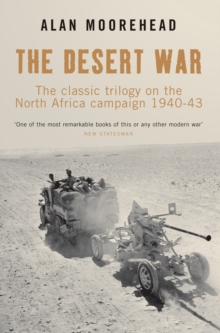 Desert War Trilogy
Paperback
Description
In 1940, Alan Moorehead was sent to cover the North Africa campaign by the Daily Express, and he followed its dramatic course all the way to 1943.
The three books he subsequently wrote about the Desert War - later collected as his 'African Trilogy' - were swiftly acclaimed as a classic account of the tussle between Montgomery's Eighth Army and Rommel's Afrika Corps, amidst the endless harsh wastes of the Western Desert.
Moorehead was responsible for the celebrated insight that tank battles in the desert are like battles at sea, the lumbering tanks like ships lost in a vast ocean of sand.
The New Statesman could not have put it better when it described his achievement with this riveting book: 'There is something of genius in the breadth and penetration of his vision, which encompasses the whole panorama of war and then narrows it down to the particular: the soldier stubbing out his cigarette before going into action, the expression on a tank commander's face as he is hit...The story of the African campaigns will go down in history as one of the great epics of mankind, largely thanks to Mr Moorehead's account.'
Information
Format: Paperback
Pages: 656 pages
Publisher: Aurum Press
Publication Date: 25/01/2009
Category: African history
ISBN: 9781845133917
Free Home Delivery
on all orders
Pick up orders
from local bookshops