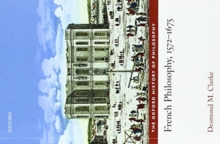 French Philosophy, 1572-1675
Paperback / softback
Description
Desmond M. Clarke presents a thematic history of French philosophy from the middle of the sixteenth century to the beginning of Louis XIV's reign.
While the traditional philosophy of the schools was taught throughout this period by authors who have faded into permanent obscurity, a whole generation of writers who were not professional philosophers-some of whom never even attended a school or college-addressed issues that were prominent in French publiclife.
Clarke explores such topics as the novel political theory espoused by monarchomachs, such as Beze and Hotman, against Bodin's account of absolute sovereignty; the scepticism of Montaigne, Charron, and Sanches; the ethical discussions of Du Vair, Gassendi, and Pascal; innovations in natural philosophy thatwere inspired by Mersenne and Descartes and implemened by members of the Academie royale des sciences; theories of the human mind from Jean de Silhon to Cureau de la Chambre and Descartes; and the novel arguments in support of women's education and equality that were launched by De Gournay, Du Bosc, Van Schurman and Poulain de la Barre.
The writers involved were lawyers, political leaders, theologians, and independent scholars and they acknowledged, almost unanimously, the authority of theBible as a source of knowledge that was claimed to be more reliable than the fragile powers of human understanding.
Since they could not agree, however, on which books of the Bible were canonical or how that should be understood, their discussions raised questions about faith and reason that mirroredthose involved in the infamous Galileo affair.
Information
Format: Paperback / softback
Pages: 304 pages
Publisher: Oxford University Press
Publication Date: 14/08/2018
ISBN: 9780198822448
Free Home Delivery
on all orders
Pick up orders
from local bookshops
Also in the The Oxford History of Philosophy series | View all