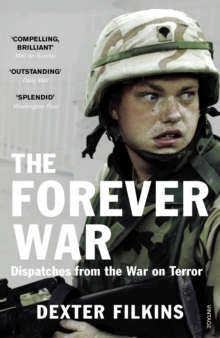 The Forever War
Paperback
Description
There are already many books on the wars in Afghanistan and Iraq, and about the War on Terror - but this is something very different.
In The Forever War, award-winning New York Times correspondent Dexter Filkins does not analyse how these wars happened and why, or where they have succeeded or failed; instead, he captures with searing immediacy, the human experience - and tragedy - of war.
We meet Iraqi insurgents and American soldiers, Afghan rebels and Taliban clerics.
We travel to deserts and glaciers and mountaintops, to the scene of public amputations and executions, to suicide bombings and into the homes of the bombers themselves.
The result is a visceral understanding of the War on the Terror, its victims, the people who fight it and the way these people feel.
Information
Format: Paperback
Pages: 384 pages
Publisher: Vintage Publishing
Publication Date: 01/08/2009
Category: Asian history
ISBN: 9780099523048
Free Home Delivery
on all orders
Pick up orders
from local bookshops
Reviews
Showing 1 - 1 of 1 reviews.
Review by Quickpint
16/06/2015
This is a well-written book that sheds a huge amount of light on the Iraq occupation. Dexter Filkins was in-country for five years, and seems to have stayed mostly out of the Green Zone, thanks in no small part to the New York Times, which ran its bureau like a military compound, and hired a small private army. Despite this one imagines it took some degree of courage on the author's part too, although he would probably frame his "risk-assessment" somewhat differently. Chiefly because of this, but also because of Filkins' previous time in Afghanistan, it's an invaluable text for anyone seeking an understanding of that time. I can tell you it is an infinitely superior work to anything written by British civil administrators in the CPA; Rory Stewart or Hilary Synnott, conceited British snobs who understood very little of what they saw. It has unfairly but inevitably drawn comparisons with Herr's Despatches. Despatches is a seminal but an entirely different work. Herr was present in a war that was saturated with media presence; Filkins in Iraq is a more solitary light. Also, Herr's work is infused with introspection, and a weird kind of lyrical war-poetry. What Herr saw was not intrinsically important in terms of reportage, what Filkins saw is. There are stories and anecdotes in this book which will open your eyes. While he makes several stylistic nods towards Herr, Filkins has something else to bring to the table. He has more to focus on. For all this it is still in parts an infuriating book. Filkins sees everything through American eyes, but this isn't so terrible, because he never pretends not to. He wears his subjectivity on his sleeve. A review of The Forever War in the Herald argued it was refreshing to read a book on Iraq that wasn't an argument, but there is an argument in this book, latently, or at least a tacit acceptance of the war as something without a moral dimension, as something that just happened, and that probably should have. There is too running through this the implication that the Iraq invasion wasn't a moral disaster, that Islam has something dark and violent and its heart, that the Americans that fought there were making some kind of positive contribution. Further, there is the old American insularity. There is far more scorn poured on the Iraqi people than on US soldiers. Political motivations back in Washington, George Bush, Bremer, American attitudes towards the Middle East and foreigners in general, these things aren't mentioned at all. When, concluding, he talks of those Iraqis and Pakistanis lucky enough to come into the New York Times' orbit, and thereby later get visas for America, his tone is slightly sickening. As if there was nothing really out there, beyond the borders of the States, no countries or cultures worth living in, nothing really to be built or saved. When he was in Iraq he might as well have been in outer space, he adds. I suspect Filkins' social alienation post-Iraq is not just the trauma of coming back from a war zone, but also the sign of a huge cognitive dissonance. It will remain so until he figures out an argument he can live with. As informative and competent as this book is, it's probably best to accompany it with a more thoughtful analysis. I would recommend Jonathan Steele's Defeat.