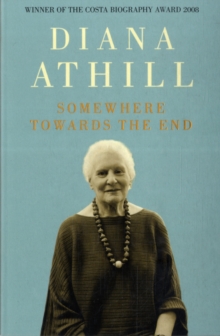 Somewhere Towards the End
Paperback
Description
Diana Athill made her reputation as a writer with the candour of her memoirs, now aged ninety, and freed from any inhibitions that even she may once have had, she reflects frankly on the losses and occasionally the gains that old age brings, and on the wisdom and fortitude required to face death.
This is a lively narrative of events, lovers and friendships: the people and experiences that have taught her to regret very little, to resist despondency and to question the beliefs and customs of her own generation.
Information
Format: Paperback
Pages: 192 pages
Publisher: Granta Books
Publication Date: 01/12/2008
Category: Autobiography: general
ISBN: 9781847080691
Free Home Delivery
on all orders
Pick up orders
from local bookshops
Reviews
Showing 1 - 5 of 6 reviews.
Previous | Next
Review by dylanwolf
16/06/2015
Autobiographies are never really my favourite thing, but I do occasionally give one a spin. This gets a raspberry from me. Diana Athill is clearly an upper class lady who thinks quite highly of herself and has led a privileged life. Consequently I find her story a difficult one to warm to. Where is the humility? Nevertheless this book is quite an achievement for a ninety year old to complete. Ms Athill still has a sharp mind but I don't think I'd find her a sympathetic old lady.
Review by michalsuz
16/06/2015
Well written, honest, and of course wonderful from a 90 year old, but not as interesting as I had hoped, nothing very original either in what she thinks or how she says it. Someone had complained that there was too much sex, but the sex content seemed to me mildly expressed and entirely acceptable. Didn't like Ms Athill herself very much - a cold fish, except with regard to her mother. Altogether, not thrilled.
Review by Adrianburke1
16/06/2015
Unusual in terms of autobiography because here is less is more. She writes in riffs around a topic rather than just tediously plodding through everything which happened. Shrewd observational stuff.
Review by Summermoonstone
16/06/2015
What an amazing woman! A book about getting old - and seeing the world through those eyes applying all the experience of life. A book of honesty and integrity and quiet wit. Can't praise it enough - feels as if I have made a new friend
Review by isabelx
27/08/2015
To me it was plain silly. It is so obvious that life works in terms of species rather than individuals. The individual just has to be born, to develop to the point at which it can procreate, and then to fall away into death to make way for its successors, and humans are no exception whatever they may fancy. We have, however, contrived to extend our falling away so much that it is often longer than our development, so what goes on in it and how to manage it is worth considering. Book after book has been written about being young, and even more of them about the elaborate and testing experiences that cluster round procreation, but there is not much on record about falling away. Being well advanced in that process, and just having had my nose rubbed in it by pugs and tree ferns, I say to myself, 'Why not have a go at it?' So I shall.This is a memoir written by an 88-year-old atheist ex-publisher about what it is like to be old and facing death. Diana Athill accepts that she is too old to get another dog and that she will never see her new tree fern grow into a tree, but apart from that she doesn't go in for regrets. She had an interesting career and lots of lovers and even picked up a surrogate daughter and grand-children along the way, and I like the way she doesn't sugar-coat things and faces up to past bad behaviour.