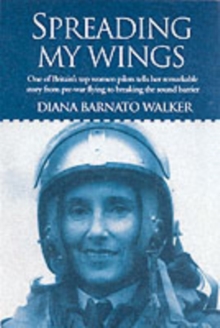 Spreading My Wings : One of Britain's Top Women Pilots Tells Her Remarkable Story from Pre-War Flying to Breaking the Sound Barrier
Paperback
Description
The daughter of a millionaire racing driver, Woolf Barnato and granddaughter of Barney Barnato who co-founded the De Beers mining company, by 1936 Diana had had enough of her affluent, chaperoned existence and sought excitement in flying, soloing at Brooklands after only six hours' training.
She has followed her own instincts ever since. Joining the Air Transport Auxilliary in 1941 to help ferry aircraft to squadrons and bases throughout the country, she flew scores of different aircraft - fighters, bombers and trainers - in all kinds of conditions and without radio.
She lost many friends, a fiance and a husband before 1945 but continued to fly.
In 1962 she was awarded the Jean Lennox Bird Trophy for notable achievement in aviation and then - her greatest moment - in 1963 flew a Lightening though the sound barrier becoming "the fastest woman in the world".
She was awarded the MBE in 1965. Her memoirs offer adventure, anecdotes and famous names and is the story of a special woman who, now in her 80s, continues to live life to the full from her home in Surrey.
Information
Format: Paperback
Pages: 256 pages, 32pp photographs
Publisher: Grub Street
Publication Date: 01/04/2003
Category: Biography: general
ISBN: 9781904010319
Free Home Delivery
on all orders
Pick up orders
from local bookshops
Reviews
Showing 1 - 3 of 3 reviews.
Review by antisyzygy
16/06/2015
An excellent read. Diana Barnato was a privileged pre-war socialite, granddaughter of one the De Beers diamond brokers founders, daughter of a 'Bentley'. Her early life was one of fast cars, luxury homes and glamorous parties. Having had the opportunity to fly pre-war, she turned that hobby into an important contribution to the war effort, as one of the hundred or so pilots with the Air Transport Auxiliary, ferry planes from factory to airfields.This biography concentrates on those war years, and she writes with a very easy, natural style, exactly as you would imagine her telling it in person at a family event. Not afraid to make fun of herself, nevertheless she manages to convey the seriousness and danger of the work, not stinting when it comes to dealing with the losses of those close to her. It is, in the end, a personal account, rather than the dealing with the politics of women pilots in that era.
Review by clif_hiker
16/06/2015
I really wanted to like this story... ok I did finish it... and I did like the flying anecdotes and war stories. I really had a hard time getting past her seeming obliviousness to her own privilege and the opportunities her wealth afforded her. I suppose that's a British class thing, and as an American I tend to be overly sensitive about it...
Review by AdonisGuilfoyle
16/06/2015
Intrigued by the glamorous introduction to this adventurous pilot in Giles Whittell's book <i>Spitfire Women</i>, Diana Barnato Walker is now one of my heroines. Brave and beautiful, with enough inner strength and energy to take to the skies and survive the lows, Diana is truly inspiring. From debutante to 'atagirl', Diana flew over 80 types of aircraft during the war, including Spitfires, lost a fiance and a husband in tragic circumstances, then went on to break the sound barrier, battle cancer, and was awarded a well-deserved MBE in recognition of her spectacular career. If her life was packed into a novel, I would have a hard time swallowing such implausible achievements, but Diana Barnato Walker did all this and more.Her early life is slightly less impressive, even though her family's wealth and connections set Diana up for her later career. Her father was Woolf Barnato, a famous racing car driver, and she basically took up flying to escape all the 'nannies, governesses, companions and chaperones' of well bred young women. Reading about all the hunting, parties and posh houses of her expensive lifestyle makes Diana sound like a flying Mitford sister, but she really proved her mettle during the Second World War. 'Despite the supposed glamour,' she tells the reader, 'the life was hard for all ATA pilots, not least the women, who had to prove themselves able to do the job as well as the men' (which they did). Two whirlwind romances were also cut short, when Diana's fiance was killed in 1942, and then three years later her husband died in a senseless accident in peace time while ferrying a plane between two airfields. Diana and Derek Walker, 'a leader of men' with a 'swashbuckling step' and 'jutting chin', once delivered two Spitfires across to Brussels in wartime, displaying a truly equal partnership. After losing Derek, Diana never remarried, but did have a son to her married American lover. Fact trumps fiction once again.If you can adjust to Diana's hale and hearty narrative style, her memoirs are an education and an inspiration to read. The Kindle format needs smoothing out, but at least there are illustrations, which were missing from Whittell's ebook.