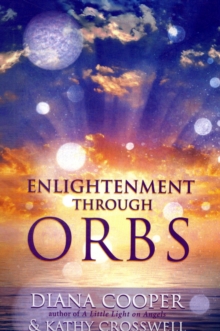 Enlightenment Through Orbs
Paperback
Description
Intended as an introduction and initiation to a worldwide fascination, this experiential tool draws its conclusions from the careful scrutiny of thousands of digital photographs containing orbs-visible proof of the presence of angels in the form of ghostly spheres.
The book answers technical questions and offers practical guidance, such as who the orbs are, what purpose they serve, and how they can help.
The dozens of full-color photos included within allow the orbs to enlighten and transform lives with their specific energies as well as provide tools for confidence, love, empowerment, hope, and spiritual expansion.
Seekers will find the orbs especially enlightening, whether they are looking to make simple connections to angels and other spirit guides or ultimately to accelerate their own spiritual ascension.
Information
Format: Paperback
Pages: 168 pages, 44 Halftones, color
Publisher: Findhorn Press Ltd.
Publication Date: 21/10/2008
Category: Psychic powers & psychic phenomena
ISBN: 9781844091539
Free Home Delivery
on all orders
Pick up orders
from local bookshops
Reviews
Showing 1 - 1 of 1 reviews.
Review by IonaS
16/06/2015
This book provides a wealth of information for those wishing to learn about orbs, in fact it is a valuable guidebook. It would be difficult, if not impossible to absorb all the information given in the book at one reading, so you will need to purchase it.Orbs are a relatively recent phenomenon, in that they appear in photographs taken on digital cameras by persons with a "certain" consciousness: you must have love consciousness to capture orbs on your photos. Orbs contain the "purest divine energy", more specifically, archangels, angels, unicorns, spirits and the like.The book contains numerous stunningly beautiful, transformative photos of orbs. When you look at the orbs on these photos you receive a step forward in your spiritual development. Examples of such help are, for instance, to receive: 1) joy, life force, purification 2) protection from Archangel Michael 3) a feeling of love and protection 4) a transmutation of fear into confidence 5) a certainty that love is there for you. And so on, and so on. There are 40 orb photos. These touch you like nothing else - you can feel their energy or emanation go straight into your core and transform/expand your being. They are an aid to enlightenment, hence the title of the book.Also included are innumerable meditations with the orbs and exercises to raise your consciousness. I have not had time to practise many of these meditations as I have not as yet actually bought the book. But in one specific meditation I did contact an angel of love and felt its pure, pure love. I don't always manage to feel the angels when I ask them to come to me, but there was no doubt in this meditation.I thoroughly recommend that you purchase this marvellous book. Diana Cooper is an advanced soul, and her books are contributing greatly to the awakening and ascension of humanity.