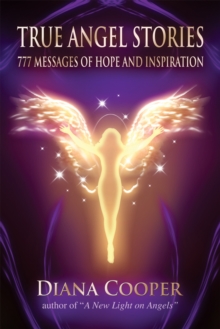 True Angel Stories : 777 Messages of Hope and Inspiration
Paperback
Description
This inspiration book of 777 true angel stories explores how angels can transform lives through exercises and visualisations that readers can practice on their own.
Stories discuss guardian angels, feathers, signs, rainbows, prayers, numbers and names, unicorns, orbs and much, much more, making this the ultimate angel compendium.
Free Home Delivery
on all orders
Pick up orders
from local bookshops
Reviews
Showing 1 - 1 of 1 reviews.
Review by IonaS
16/06/2015
These 777 true angel stories are inspiring and encouraging, and if you didn't believe in angels before starting the book, you will before you've finished it!Diana Cooper writes a few words or sentences as a heading to each story, so you know what they're about. Some of the stories are by Diana herself and many others are by her students or former students at the various Diana Cooper schools. As regards a few of the initial stories, one feels there might be real angels involved or there might not, but most of the stories are absolutely believable and convincing, in fact in my view indisputable. Many of Diana's students, and of course Diana herself, I presume, see angels clearly and/or communicate clearly with them as is the case with regard to nature spirits, fairies, elementals, unicorns and the like.There are chapters on experiences with Archangel Michael, Archangel Raphael, Mother Mary, who is a "great universal angel, whose light and work spans many universes" and who "protects and enfolds mothers and children", Unicorns, Elements and Elementals, Angel Orbs, and so on.At the end of the book we find angel exercises and visualizations, including "Communicating with angels", "Asking for help", "Healing" and "Spiritual practices".The stories are well-written and simple and clear. I have been much inspired by the book and I ask the angels for help much more than previously, since the book has strongly reminded me of the value in working with them. Also, there are so many stories by angel-loving Reiki practitioners that I have begun to use my Reiki again and call in the Archangels for help here too.I myself have obtained much help from the angels after reading the book and send them often to help family, friends and others whom I feel need help. Thus, if you read the book, it will inspire you to help many, many others, and it will make the world a better place. I can't recommend this book enough.