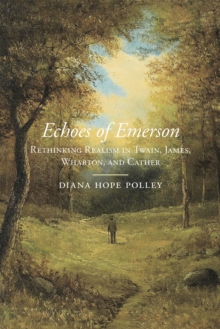 Echoes of Emerson : Rethinking Realism in Twain, James, Wharton, and Cather
Hardback
Description
Probes the ways in which two major periods in nineteenth-century American literatureaEURO"Romanticism and RealismaEURO"have come to be understood and defined.
Echoes of Emerson: Rethinking Realism in Twain, James, Wharton, and Cather traces the complex and unexplored relationship between American realism and the philosophy of Ralph Waldo Emerson.
Critics often read American realism as a clear disavowal of earlier American romantic philosophy and as a commitment to recognizing the stark realities of a new postbellum order.
Diana Hope Polley's study complicates these traditional assumptions by reading American realism as an ongoing dialogue with the ideasaEURO"often idealismsaEURO"of America's greatest romantic philosopher, Ralph Waldo Emerson.
In this illuminating work, Polley offers detailed readings of Mark Twain's Adventures of Huckleberry Finn , Henry James's The Portrait of a Lady , Edith Wharton's The House of Mirth , and Willa Cather's My Antonia aEURO"all through the lens of Emersonian philosophy and discourse.
This unique contribution to nineteenth- and early twentieth-century literary studies shows how these texts revisit Emerson's antebellum i?1/2republic of the spiriti?1/2 philosophy, specifically the trope of the Emersonian hero/heroine navigating the harsh contingencies of the modern world.
Romanticism and realism are often seen as opposing binaries, with romanticism celebrating the individual, self-reliance, and nature and realism emphasizing the weight of socio-historical forces.
Realism is often characterized as rejecting the transcendent principles of Emersonian thought.
Rather than accept those distinct boundaries between romance and realism, Polley argues that American realists struggled between celebrating Emerson's core philosophies of individual possibility and acknowledging the stark i?1/2realitiesi?1/2 of American social and historical life.
In short, this study recognizes within realism a divided loyalty between two historical trends and explores how these seemingly contradictory notionsaEURO"Emerson's romantic philosophy and later nineteenth-century visions of historical realityaEURO"exist, simultaneously, within the literature of the period.
Information
Format: Hardback
Pages: 192 pages
Publisher: The University of Alabama Press
Publication Date: 30/09/2017
Category: Literary studies: general
ISBN: 9780817319564
Other Formats
Paperback / softback from £20.95
Free Home Delivery
on all orders
Pick up orders
from local bookshops
Also by Diana Hope Polley
Also in the Studies in American Literary Realism & Naturalism series