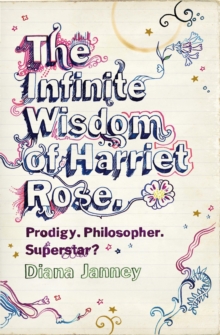 The Infinite Wisdom of Harriet Rose
Paperback
Description
Harriet Rose, like any other teenager, is naive, overconfident and has always felt she has something important to say.
However, unlike most of her peers, her hero is Marcus Aurelius, in imitation of whom she has been composing philosophical reflections on life for some time.
When Harriet's father dies, the urge to write these meditations is greater than ever.
Then, on her fourteenth birthday, she receives a unique gift.
Her doting mother and grandmother have had her by-now-substantial collection of meditations published.
Having appointed themselves roles - Mother: publicist; Nana: sales rep; Harriet: esteemed author - they vow to get the book into the hands of a wide readership.
Once this formidable team gets into gear, there's no holding back, and Harriet is hurled into a lifestyle that not even she, in all her infinite wisdom, could have been prepared for.
Bookshop orders soon stack up, and Harriet is plunged into a whirlwind of launch parties, newspaper coverage and television appearances.
But is all this attention exactly what she thinks? And, more importantly, can her happiness - or her naivete - last?
Information
Format: Paperback
Pages: 400 pages
Publisher: Headline Publishing Group
Publication Date: 24/01/2008
ISBN: 9780755337712
Free Home Delivery
on all orders
Pick up orders
from local bookshops
Reviews
Showing 1 - 1 of 1 reviews.
Review by donnambr
16/06/2015
The Infinite Wisdom of Harriet Rose is a strange book. It feels like it should be a book for children and yet I'm not sure I'd want my son/daughter to read it. That said, the days when I was 14 (the age of the central character) seem a long time ago (well, 14 years to be precise) and I'm sure I wasn't playing with Barbies and being all sweet and innocent. Even so, there is something about the book that makes it difficult for me to pinpoint if it is for teenagers, adults or both.Harriet is 14, apparently immensely wise and clever for her years, on the brink of a relationship with a young French student a couple of years older than her, living with her mother and grandma. Her father has died.I say 'apparently immensely wise and clever' because this is my second point of indecision. The words on the front cover state 'Prodigy. Philospher. Superstar?'. It's true that Harriet does seem to have some insightful thoughts and has much more going on in her mind than some of her fellow students; however, I found her intensely annoying and superior in attitude. Whether this was the intent of the author I don't know. But Harriet Rose is, by and large, a character I could not empathise with. And I certainly couldn't decide if I felt she was a prodigy or a pain!The story is relatively simple and actually very touching. Harriet's mother and 'nana' arrange for her collection of meditations to be published as 'The Infinite Wisdom of Harriet Rose' and the book takes off quite nicely, much to Harriet and her family's glee but some of her schoolmates' chagrin. Along the way there is a touch of teenage romance. It's quite well written and well developed and a number of the characters are very believable, including Harriet's nana, Olivia and her headmistress and schoolmates. However, I found Harriet and her mother to be false in many ways and thus the story never really came to life.It could have been a very sweet novel for children had it been a little less adult in content and if Harriet had been a little more likeable it would have been quite inspirational. However, as book for teenagers or young adults it just seems to lack something and comes across as a little too juvenile. This is a book that is trying too hard to be in more than one camp.