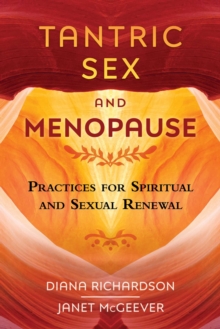 Tantric Sex and Menopause : Practices for Spiritual and Sexual Renewal
Paperback / softback
Description
A tantric guide to discovering the hidden gifts of menopause Shining the light of tantric intelligence on menopause, the authors reveal how to explore and experience menopause in a radically positive fashion, suffused with a sense of vital awakening and "re-wilding" of a woman's sexuality, creativity, and spirituality.
Explaining what to expect physically, emotionally, and spiritually, as well as what it means for relationships, they detail tantric practices and tools to connect with the body's inner intuitive wisdom and heart energies, remove the "performance pressure" of conventional sex, and set the stage for passion and pleasure to thrive both in the bedroom and beyond.
They explain why Tantra works for menopausal women and how their bodies are naturally entering a more tantric phase focused on creative, spiritual energy.
They explore how, in Tantra, sex is practiced not for the sake of sex itself but as an instrument for going "beyond" sex, for better health, improved relationships, enhanced self-control and emotional balance, and even higher states of consciousness.
They also offer many self-help practices, exercises, and meditations to reinforce a positive attitude toward menopause and overcome many of the physical and sexual problems, such as pain, dryness, loss of interest, and loss of libido. Providing a guide for women who are approaching, experiencing, or have gone through menopause, the authors show how a more informed, tantric approach to menopause allows each woman to deepen her trust in the perfect functioning of the female body, embrace her natural sexual response, and reconnect with her inner self. Previous titles: Tantric Orgasm for Women 9780892811335, Tantric Sex for Men 9781594773112, Slow Sex 9781594773679
Information
Format: Paperback / softback
Pages: 224 pages, 21 b&w illustrations
Publisher: Inner Traditions Bear and Company
Publication Date: 17/05/2018
Category: Mind, Body, Spirit
ISBN: 9781620556832
Free Home Delivery
on all orders
Pick up orders
from local bookshops
Also by Diana Richardson