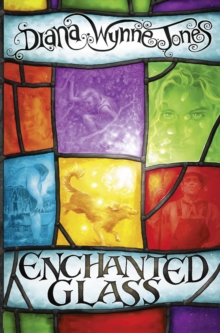 Enchanted Glass
Paperback
Description
A brilliant, intricate and magical novel from the Godmother of British fantasy.When Andrew Hope's magician grandfather dies, he leaves his house and field-of-care to his grandson who spent much of his childhood at the house. Andrew has forgotten much of this, but he remembers the very strong-minded staff and the fact that his grandfather used to put the inedibly large vegetables on the roof of the shed, where they'd have vanished in the morning.
He also remembers the very colourful stained glass window in the kitchen door, which he knows it is important to protect.Into this mix comes young Aidan Cain, who turns up from the orphanage asking for safety.
Exactly who he is and why he's there is unclear, but a strong connection between the two becomes apparent.There is a mystery to be solved, and nothing is as it appears to be.
But nobody can solve the mystery, until they find out exactly what it is!
Information
Format: Paperback
Pages: 336 pages
Publisher: HarperCollins Publishers
Publication Date: 05/08/2010
Category: British & Irish history
ISBN: 9780007320806
Free Home Delivery
on all orders
Pick up orders
from local bookshops
Reviews
Showing 1 - 2 of 2 reviews.
Review by chinquapin
16/06/2015
Enchanted Glass is a whimsical, witty children's fantasy filled with quirky characters. The plot is bizarre, yet engaging. Andrew, a typical absent-minded professor inherits his grandfather's old home and estate. It turns out that his grandfather was a magician and that he was in charge of a field-of-care that is now going awry. But Andrew doesn't recall any of the stuff that his grandfather had tried to teach him about magic and the field-of-care when he was a boy because he dismissed it as nonsense. Then, when things start getting terribly weird, young Aidan shows up, whose own magical Grandmother, with a field-of-care in London, has recently passed away. He is running away from some evil creatures called The Stalkers. Somehow, with a lot of humorous twists and turns, Andrew and Aidan figure out how to get control of the field-of-care that is now in Andrew's hands. A great part of the appeal to the book for me were all the strange and quirky characters...a gardener who gets revenge by bringing Andrew baskets of enormous, oversized vegetables; a housekeeper who expresses her disapproval by endlessly rearranging furniture and making cauliflower cheese which both Andrew and Aidan detest; and a secretary who makes predictions based on the names of the horses who won races the day before at the track; a dog who is not really a dog at all. I enjoyed the story and I regret that Diana Wynne Jones has passed away and now cannot continue their adventures in a sequel.
Review by wyvernfriend
16/06/2015
With a somewhat slow start this sucked me in after a few pages. Andre Hope's grandfather was a magician and when he dies he leaves his house and field-of-care to his grandson. Andrew has forgotten most of what he knew, dismissing it as flights of fancy but this is important stuff and Andrew's life is about to change. When Aidan Gain joins them, having run away from his foster home, things start to move and Andrew is going to have to acknowledge the magic to save everyone he cares for.I liked this story, I loved the way taking off the glasses changed perspective (possibly because I sometimes think of it like that). and how true sight was different from sight through your glasses. I also liked how Andrew had to grow to fill his place in the magical world. I have a sneaking suspicion that Mrs Stock won't stay as housekeeper for very long after the story ends!