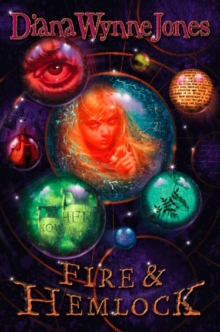 Fire and Hemlock
Paperback
Description
In the mind of a lonely, imaginative girl, who can tell where fiction ends and reality begins?
An epic fantasy, spanning nine years... The fire and hemlock photograph above Polly's bed sparks memories in her that don't seem to exist any more.
Halloween; nine years ago; she gatecrashed a funeral party at the big house and met Thomas Lynn for the first time. Despite the fact that he's an adult, they struck up an immediate friendship, and began making up stories together - stories in which Tom is a great hero, and Polly is his assistant.
The trouble is, these scary adventures have a nasty habit of coming true... But what has happened in the years between?Why has Tom been erased from Polly's mind, and from the rest of the world as well?
Gradually Polly uncovers the awful truth and, at Halloween nine years on, realises that Tom's soul is forfeit to demonic powers unless she can save him.
Information
Format: Paperback
Pages: 400 pages
Publisher: HarperCollins Publishers
Publication Date: 05/06/2000
Category: Fantasy
ISBN: 9780006755197
Free Home Delivery
on all orders
Pick up orders
from local bookshops
Reviews
Showing 1 - 4 of 4 reviews.
Review by Herenya
16/06/2015
From the cover, the title and what I have read of other Diana Wynne Jones novels, I expected a blantantly magical world - different, confusing and not my own. What I found was reality, and somehow I have to say that's the book's greatest strength.To quote Amazon: <i>A photograph called "Fire and Hemlock" that has been on the wall since her childhood. A story in a book of supernatural stories - had Polly read it before under a different title? Polly, packing to return to college, is distracted by picture and story, clues from the past stirring memories. But why should she suddenly have memories that do not seem to correspond to the facts?</i>Polly's 'flash-back' memories start at age 10, when she accidentally crashes a funeral and meets cellist Thomas Lynn. Together they make up stories in which they are heroes, Tan Coul and his assistant Hero. However, their stories have a strange way of coming true, and Tom's ex-wife and her family appear to have sinister designs on Tom - and Polly, when she refuses to give Tom's friendship up.Set in England during the 80s, the story follows Polly's relationship with Tom Lynn (through letters, books and occasional meetings), her struggles with her divorced and negligent parents and the usual complications of adolescence, inter-weaving them with the ballads of Tam Lin and Thomas the Rhymer. The story is very real - Polly's family issues painfully so, and are countered by the story's vitality, warmth and wonderful characters (Polly's parents and the bad guys excluded, obviously). One of the wonderful aspect of Mr Lynn's relationship with Polly as a child is the way takes her seriously and is honest with her creative endevours. (I also love the way he sends her books.) The reflections and insights into the pains of growing up are honest and acute, and Polly's strength in surviving them admirable.<i>Fire and Hemlock</i> is captivating and wonderful, vividly described and told in four parts and a coda - with each part cleverly given a music speed (allegro vivace, andante cantabile, allegro con fuoco, presto molto agitato and scherzando). Like an onion (or is it an ogre?) it has many layers. One of its strengths is that for the most part, things aren't explained - the fantasy element is also a mystery one, and in consequence of being vague, is sinister and intriguing. It's not blatantly a romantic story, either - for the most part, things are subtle and refreshingly so.But, the subtly does cause difficulties with the ending. There is no tidy, clear explanation of what happens, and instead of the reality with hints of fantasy that is most of the book, this is fantasy (with hints of reality). The ending is rushed, vague, and disconcerting - it requires a few readings to get it all straight, along with a lot of guesswork and reading between the lines. Polly rushes in, instinctively knowing rules which are not explained and combined with a few twists and the parallels (or parallels twisted) with the ballads and Faerie Queen, confusion puts it mildly. However, the ultimate conclusion is necessarily subtle, as it involves a paradox and finding a loophole - and would be counteracted by being more explicit. The story would also lose something by being spelt-out - working things out for yourself is part of the appeal, as is the cryptic manner they are presented in. There is also a reason why Polly knows, mentioned much, much earlier.Luckily I knew a (very) little bit about Tam Lin, and between that and the quotes preceeding each chapter, had enough of an idea. I suspect knowing more would help.Which is the long way of saying this mixture of reality and fantasy is wonderful and brilliant, and highly recommended.
Review by lunacat
16/06/2015
Polly has been looking at the picture above her bed. With its dark figures, smoky flames and sense of foreboding, it has always fascinated her. And its name, 'Fire and Hemlock' that seems to link to a story in the book she is holding.But why is the story not there? As she searches her memory for the answer, other things suddenly pop out at her, events that don't fit with what she remembers, with the path her life has seemed to travel.And then, the memories begin to fall into place. Thomas Lynn, her best friend that has been erased from her mind; the adventures they went on that seemed to always be coming true; that house. The house where it started with a funeral.This was a spine tingling, dark and mysterious fantasy that has truly shown this writer at the top of her game. With multi-layered characters, events that don't quite make sense, and the Leroys that keep coming back, I couldn't help but read this into the early hours of the morning.Every part of the plot is stunningly constructed, with Polly's various sections of her life all vividly real, and as they are revealed, you cannot help being drawn in. This held the kind of darkness that many fantasy writers can only dream of. That doesn't need to involve graphic violence or gratuitous death, but that sucks you in and leaves you holding your breath as the characters become more and more tangled in the vast web.I started this at 8.30pm, and finished at 4am. Surely there can be no better recommendation than the inability to put a book down to sleep.A spine chilling fantasy with twists and turns that suck you in
Review by redcountess
16/06/2015
Loved it, although the romantic aspect squicked me slightly, because of the young age of the main protagonist, and I thought the denoument was a little too rushed.
Review by tigerbuns
16/06/2015
Rereading for the third (?) time.