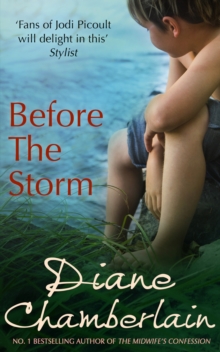 Before the Storm
Paperback
Description
'Totally amazing. I love Diane's writing, just love it . . . she is so skilled' - Cathy KellyWhat if your child was accused of mass murder?When the local church is razed to the ground, dozens of trapped children manage to escape - many helped by fifteen-year-old Andy Lockwood.
Born with Foetal Alcohol Spectrum Disorder, Andy is more like a little boy that a teenager, but in the eyes of the people he saved, he's a hero.Laurel lost her son once through neglect and has spent the rest of her life determined to make up for her mistakes.
Yet when suspicion of arson is cast upon Andy, Laurel must ask herself how well she really knows her son - and how far she'll go to protect him.Praise for Diane Chamberlain 'An incredibly moving story very sensitively told, rich in character and atmosphere.
I truly couldn't put it down' - Susan Lewis on Necessary Lies`Fans of Jodi Picoult will delight in this finely tuned family drama, with beautifully drawn characters and a string of twists that will keep you guessing right up to the end.' - Stylist`A marvellously gifted author.
Every book she writes is a gem' - Literary Times'Essential reading for Jodi Picoult fans' Daily Mail'So full of unexpected twists you'll find yourself wanting to finish it in one sitting.
Fans of Jodi Picoult's style will love how Diane Chamberlain writes.' - Candis
Information
Format: Paperback
Pages: 496 pages
Publisher: Mira Books
Publication Date: 21/05/2010
ISBN: 9780778303381
Free Home Delivery
on all orders
Pick up orders
from local bookshops
Reviews
Showing 1 - 2 of 2 reviews.
Review by nicx27
16/06/2015
I loved this book! Diane Chamberlain writes so fluidly that I just found myself going with the flow of the book and reading it at every possible opportunity.The story is about Laurel, a woman who drank when she was pregnant with her now 15 year old son, Andy. As a result he has Foetal Alcohol Spectrum Disorder, which has affected his growth and development. Laurel has always put all her energy into looking after Andy, giving the majority of her love and attention to him, rather than his older sister Maggie, who has always been able to look after herself. However, when a fire breaks out at the church where Andy is attending a lock-in with friends, after initially being the hero who got the other kids out, the suspicion of arson points to him. Laurel has to try to protect Andy, but realises that she also needs to protect Maggie too.This book is a fabulous read. Diane Chamberlain is always likened to Jodi Picoult and I can see the similarities, but I find Diane Chamberlain's work a much easier read, although just as hard-hitting. In this book, she tells the story from various different perspectives, and I liked the way I could understand the events from the view of different characters. It worked very well, and was not at all confusing.This is a real page turner - highly recommended.
Review by pokarekareana
16/06/2015
I'd already read and loved "The Lost Daughter", so I'm really glad this wasn't a let-down. The characters really get under your skin, because Chamberlain has such a fascinating way of making them all seem very human and ever so slightly imperfect, although in my head they are all supermodelishly attractive people. I accidentally discovered whodunnit by reading the blurb of another of Diane Chamberlain's books, but even knowing what I wasn't meant to know didn't spoil my enjoyment of this one. The cover of the book I read says that you should read it if you like Jodi Picoult. I'd recommend leaving Jodi Picoult in the library or the bookshop and reading this instead.