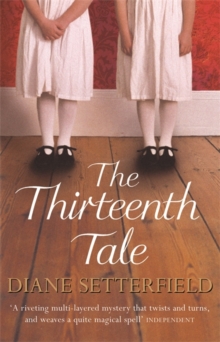 The Thirteenth Tale
Paperback
Description
Now a major BBC film, directed by Oscar-winner Christopher Hampton (Atonement and Dangerous Liaisons), starring Vanessa Redgrave and Olivia Colman.Angelfield House stands abandoned and forgotten.
It was once home to the March family - fascinating, manipulative Isabelle, brutal, dangerous Charlie, and the wild, untamed twins, Emmeline and Adeline.
But Angelfield House hides a chilling secret which strikes at the very heart of each of them, tearing their lives apart...
Now Margaret Lea is investigating Angelfield's past - and the mystery of the March family starts to unravel.
What has Angelfield been hiding? What is its connection with the enigmatic writer Vida Winter? And what is the secret that strikes at the heart of Margaret's own, troubled life?
As Margaret digs deeper, two parallel stories unfold, and the tale she uncovers sheds a disturbing light on her own life...
Information
Format: Paperback
Pages: 480 pages
Publisher: Orion Publishing Co
Publication Date: 01/01/2007
ISBN: 9780752881676
Other Formats
Paperback from £7.25
EPUB from £4.99
eAudiobook MP3 from £15.08
Free Home Delivery
on all orders
Pick up orders
from local bookshops
Reviews
Showing 1 - 5 of 17 reviews.
Previous | Next
Review by Lman
16/06/2015
This is one of those books that gripped me from the first page, whose story intruded into my thoughts at unexpected times and gnawed at my imagination until I completed it. Like Vida Winter extols - the writer whose story it ultimately tells - this book is a good tale because it has "a beginning, middle and end. In the right order." Well written and told with great eloquence by the narrator Margaret Lea, it also tells her story. This book is partly a mystery, mostly a tragedy, and offers a reverence to other books, to the writing and reading of such, that most book lovers will resonate with.Some may find the ending unsatisfactory but many should agree that the completion of the "Thirteenth Tale" contains a little more of the truth of how the world can really be, rather than the way it is often portrayed in favourite fairy stories.
Review by susan139
16/06/2015
Excellent book. This will become a classic book for the future I'm sure. It was as good as The Time Travellers Wife.
Review by phoebesmum
16/06/2015
I love, love, loved this, read it straight through in two sittings, and then wanted to read it again. A book for book lovers that pays unblushing homage to, among others, 'Jane Eyre', 'Rebecca', 'Wuthering Heights', 'The Woman in White' … Hours of fun for even the most casual reader. Almost without a doubt, my book of the year.
Review by ishtahar
16/06/2015
This has finally come out in paperback. This is that one that got an £800,000 advance and is meant to be the best book since sliced bread. To be honest I don't hold out a lot of hope....On P. 138I take it back. I have been sucked in straight away. Can barely put it down! Whiich is apt seeing as amonst other things it is the tale of books and their words sucking you in. It is also the tale of a dying writer and her reluctant biography, lost twins and the ghosts of the past. Like The House at Riverton it has a very Brontesque Gothic atmosphere to it; it is also set in Cambridge and the Yorkshire Moors - my two favourite places! And timeless. It could be set anytime. Whilst it seems modern there are no mobile phones or laptops or other such superfluous crap which makes me think it is a different plane of now. It also reminds me of Donna Tart. I'm not really sure why as it covers none of the themes that Tart obsesses with. Maybe it is my utter empathy with the narrator, which I got with the Little Friend and also from the characters in The Secret History. This time a solitary girl happier around books than people... On finishingIs there a new trend for the Brontesque at the moment. The second novel in as many weeks I have read that draws heavily on the themes of the sisters. In fact the Thirteenth Tale is unashamedly Jane Eyre (mixed with a little Wilkie Collins and Henry James), but it is in such a way that the book is a homily to Charlotte rather than a plagerism.I opened this with every intention of hating it for yet more overhyped nonsense. I haven't enjoyed a contemporary novel so much since the Secret History (and believe me that is high praise indeed).
Review by JacInABook
16/06/2015
I started reading and immediately liked Margaret Lea the narrator. There was something in her quiet manner that reached out through the pages of the book, took my hand and gently lead me through the history of Angelfield House and the story of Vida Winter.Vida is an author coming to the end of her life and wishes to have her biography written. She wants to "tell the truth" as she puts it. Margaret is her biographer. As the tale unfolds you are drawn into the dark places and secrets of Vida's childhood and consequent to those revelations, you are entrusted with Margaret's own secrets and fears.The prose was magical to me, quite beautiful, and put me in mind of a modern day Jane Austen. Descriptions and characters were so well written that I can still see them now.My opinion - A ghost story. A mystery. A love story. Whatever you choose to call it, this was a book that was recommended to me by quite a few people, well they were all dead right. A great story and a wonderful experience.