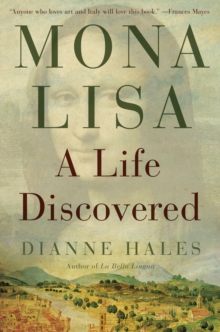 Mona Lisa : A Life Discovered
Hardback
Description
A genius immortalized her. A French king paid a fortune for her. An emperor coveted her. Every year more than 9 million visitors trek to view her portrait in the Louvre.
Yet while everyone recognizes her smile, hardly anyone knows her story.
Mona Lisa: A Life Discovered, a blend of biography, history, and memoir, truly is a book of discovery-about the world's most recognized face, most revered artist, and most praised and parodied painting.
Who was she, this ordinary woman who rose to such extraordinary fame?
Why did the most renowned painter of her time choose her as his model?
What became of her? And why does her smile enchant us still? Lisa Gherardini (1479-1542) was a quintessential woman of her times, caught in a whirl of political upheavals, family dramas, and public scandals.
Her life spanned the most tumultuous chapters in the history of Florence-and of the greatest artistic outpouring the world has ever seen.
Her story creates an extraordinary tapestry of Renaissance Florence, with larger-than-legend figures such as Leonardo da Vinci, Michelangelo, and Machiavelli. In Mona Lisa: A Life Discovered, Dianne Hales takes readers with her to meet Lisa's descendants; uncover her family's long and colourful history; and explore the neighbourhoods where she lived as a girl, a wife, and a mother.
Information
Format: Hardback
Pages: 336 pages, index, notes,4-c printed endepapers
Publisher: Simon & Schuster
Publication Date: 05/08/2014
Category: Renaissance art
ISBN: 9781451658965
Other Formats
Paperback from £8.95
EPUB from £9.99
Free Home Delivery
on all orders
Pick up orders
from local bookshops
Reviews
Showing 1 - 2 of 2 reviews.
Review by nemoman
27/08/2015
From the cover, one would expect a biography of the subject of perhaps Da Vinci's most famous painting. Hales, however, clearly did not have near the material needed for a traditional biography. Instead, she weaves together the lives of Da Vinci and Lisa Gioconda and their families against the backdrop of Florentine history. The book begins somewhat slowly - Lisa is not born until page sixty. From her historical knowledge of day-to-day life, hand the known facts about Lisa 's life, Hales is able to reconstruct what Lisa's life may have been like. As for the painting, it is fairly certain that it is of Lisa. It remains, however, somewhat of a mystery how her husband, merely upper middle class, was able to commission a portrait from Da Vinci, who already was famous. I was surprised to learn how long Da Vinci worked on the painting - on and off for some six years. Another unexplained mystery is why the painting remained in Da Vinci's possession until his death in France. Hales blends in a bit a memoir with her trips to Florence, walks along the streets where Lisa land Da Vinci lived, and discussions with various scholars. The book is well written and engaging. I was reminded of the expression: when life gives you lemons make lemonade. I suspect Hales started out to write a more traditional biography, but after finding a dearth of material, morphed what she had into this pleasant blend of history, biography and memoir.
Review by phoenixcomet
27/08/2015
An engaging book which follows the life of Lisa Gheradini, the woman whom is suspected of being the model for Leonardo da Vinci's masterpiece, Mona Lisa. Through pain-saking research and creative speculation, author Dianne Hales paints a picture of life during the Renaissance and what Lisa's life as a wife and mother were most likely about. Kept my attention from start to finish.