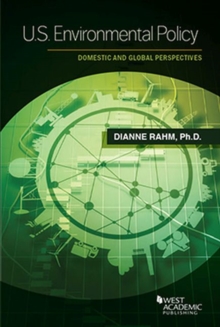 U.S. Environmental Policy : Domestic and Global Perspectives
Paperback / softback
Description
U.S. Environmental Policy: Domestic and Global Dimensions explores American environmental policy in the context of an interconnected world.
It seeks to give readers an understanding of environmental issues not only from a purely domestic setting but also from the larger perspective of global actors, institutions, and issues.
Modern conceptualization of environmental issues increasingly acknowledges their global extent. Pollution does not restrict itself to national borders.
Moreover, in an era of climate change, our most pressing environmental challenges require multinational solutions. Early chapters provide the background to understand policy institutions, actors, and policymaking domestically and internationally.
Successive chapters explore a variety of environmental issues including the pressures of population growth and increasing resource consumption, air quality, water availability and quality, solid waste, hazardous substances, land, natural resources, wildlife, endangered species, the oceans, fossil fuels, nuclear power, renewable energy, the ozone layer, and climate change.
This book provides readers with a holistic understanding of U.S. environmental issues and policymaking in the framework of the global community of nations.
Information
Format: Paperback / softback
Pages: 429 pages
Publisher: West Academic
Publication Date: 30/11/2018
Category: Environment law
ISBN: 9781683289081