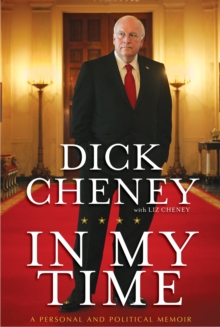 In My Time : A Personal and Political Memoir
Hardback
Description
For the first time, former Vice President Dick Cheney opens up about a life and career in politics that has spanned more than four decades.
Information
Format: Hardback
Pages: 576 pages, 2 16-page b-w inserts
Publisher: Simon & Schuster
Publication Date: 30/08/2011
ISBN: 9781439176191
Other Formats
eAudiobook MP3 from £15.08
Free Home Delivery
on all orders
Pick up orders
from local bookshops
Reviews
Showing 1 - 4 of 4 reviews.
Review by DeaconBernie
16/06/2015
This book really surprised me. Cheney's laconic style led it often to be dull, while being quite complete. Told from the standpoint who has been on the national political scene for 40 years and who held high office during much of that time. There is very little controversy in spite of what the media attempted to portray.He certainly wasn't cutting up Powell and Rice when he mentioned them, Powell more than Rice.
Review by jcbrunner
16/06/2015
The American vice presidency has been a true crook magnet, justifying the double meaning of "vice". Concerning the reach of their misbehavior, Richard "Dick" Cheney ranks easily amongst the most criminal and corrupt. Reading his memoir is not a pleasant task. It is an almost uninterrupted chain of lies and omissions. Simon & Schuster should feel ashamed for this almost North Korean publishing venture. Most autobiographies have elements where the story's hero is ecumenical with the truth. Donald Rumsfeld at least had the courtesy of quoting fake outside sources to cover his lies, Cheney feels no such compunction. He just repeats his old lies."By the time we left office, the detainees still remaining in the (Guantanamo) camp were among the worst of the worst—those too dangerous to be allowed to leave and those whose home countries would not take them back." Thanks to the Wikileaks Guantanamo Docket, we can easily check Cheney's words. Looking at the nifty New York Times tool, only 16 out of the 241 persons still in custody were labeled "high-value detainees". In an act of boundless incompetence, the US imprisoned a motley crew of innocents, bystanders and low-level fighters. Many of these unfortunates continue to be imprisoned due to the pig-headed inability to admit mistakes. One of the key functions of crimes against humanity trials is to confront the perpetrators with the irrefutable evidence of their wrong-doing. Not holding Dick Cheney accountable for his crimes will spawn a new generation of criminals. Public amnesia is already hard at work in the United States; Dick Cheney's unfavorability ratings are dropping fast.The best but also most tragic chapter of the book is chapter 1 which tells the history of the Cheney family. Among them, Cheney's great grandfather, Captain Samuel Fletcher Cheney of the 21st Ohio whose brave stand, armed with Colt repeating rifles, during the battle of Chickamauga saved the Union forces from complete disaster (look at the cover of Peter Cozzens' Chickaumaga book to see Keith Rocco's illustration of this dramatic encounter). Cheney's grandfather was forced to close his bank during the Great Depression. Cheney's father worked for decades in public service fighting for soil preservation. In stark contrast to these decent, hard working Americans, Dick Cheney sold out. A true life Anakin Skywalker, trading his heart for riches, he worked to undo what his ancestors struggled for. Cheney made America and the world a worse place, for which he was richly rewarded by the 1% (Bush's base).The book shows in multiple instances how Cheney's modus operandi set the Bush administration up for failure. Cheney's presidential vice presidency interfered with the usual division of labor among cabinet officers. Cheney established parallel structures and made decisions in a small circle which excluded those actually responsible and knowledgeable from the decision-making process (e.g. Colin Powell and the state department, later on Rumsfeld and the defense department). A disinterested president and multiple chains of command often meant that nobody felt responsible. The horrible inaction of the Bush administration in Iraq and Katrina is a consequence of Cheney's meddling but not taking responsibility. One pernicious power-play he often used was the post-decision co-optation: Powell and Democratic politicians were given just enough information and involvement to make them complicit in Cheney's crimes without having the means to influence or stop him. It is a tragic aspect that the leadership of the Democratic party failed in opposition. They meekly signed on to all criminal adventures of the Bush administration. This complicity makes any look back uncomfortable to all in Washington. In a strange tragic twist, Barack Obama copied the Bush/Cheney model of governing, continuing their failed policies. No wonder Cheney feels vindicated. His memoir is filled with him gloating over Democrats continuing his disastrous decisions.While "In my Time" will soon join the vain oeuvres of Slobodan Milosevic and Saddam Huseein, Dick Cheney will remain the poster child of the abuses of the Reagan revolution.
Review by HadriantheBlind
16/06/2015
This was a mildly interesting, albeit quite frustrating book.<br/><br/>Cheney himself now shows his humanity pretty well, with nice quotes, reminiscences, and little details about his life and mortality. He obviously is quite the family man.<br/><br/>Like many political memoirs, it doesn't completely change the whole perspective you see events - but it is informing, still. Also, like many political memoirs, it is also very self-serving. But this is not a vice unique to Cheney. Everybody there does this. They praise their friends as wise and courageous, and their enemies and misguided, misinformed, and foolish.<br/><br/>I was interested in Cheney's long view of politics. His lengthy career, from Nixon onwards, is quite interesting. On the other hand, his memories of the Bush years seem cherry picked and contradictory, and a little frustrating in nature. He is unapologetic, as always, about Iraq and the WMDs most of all. I was particularly amazed at how much intelligence the man received, at an equal or even greater basis than the President did.<br/><br/>Read it anyways, if you have the stomach for reading about American politics and a reminder of the Bush years. It's no tablet from the Mount of Sinai, but if you're interested in recent events at all, it'll be an interesting change in perspective.
Review by publiusdb
16/06/2015
I'll be honest: I only read this up until the chapter when Cheney starts his account of 9/11 and its aftermath. At that point, I decided that his most recent history--relating to September 11, 2001 and the wars in Iraq and Afghanistan--was sufficiently loaded that it would be difficult to read without some extratextual reading...fact checking, as it were. Too often I've seen Dick Cheney compared to Darth Vader (or worse), and while I do not agree, even a bit, I would have a hard time taking his perspective on the events in the post-9/11 world without a grain of salt. Ergo, I'll postpone judgment until I can read more on inner history of the time (which, admittedly, I've been living through...).<br/><br/>So I stopped reading there.<br/><br/>Now, to rewind, a bit, and to look at the rest of the memoir for what it is: a memoir. Dick Cheney's lived a life most would count as remarkable, especially for a guy who started out as a college dropout from Wyoming (granted, that college was Yale, but who's keeping track?). Eventually earning a Ph.D. in political science, he ended up in Washington advising congressmen and Presidents, including Donald Rumsfeld and Gerald Ford. Over the course of a career that began during the Nixon Administration, Cheney served the country variously as White House chief-of-staff, Congressman, Secretary of Defense, and finally Vice President (and perhaps the most powerful man to hold that office, yet).<br/><br/>Yet, for all his years in government service, the memoir provides astonishingly little detail, seemingly only giving a burnish his reputation, such as he would like it to appear. Don't get me wrong; in many respects, I like Dick Cheney. However, as a look back at a very long and distinguished career, it is short thrift, skimming through decades of dramatic changes in American government and politics. While it was interesting to hear about his time and the events in which he had participated, as well as some of the insider politics of the campaigns and party conventions of the late 1970s and early 1980s, Cheney sacrifices detail for brevity. It keeps the story moving, and so the "In My Time" is readable. However, it left me feeling like I had read the Cliff's Notes version, not the full memoir.<br/><br/>That said, and I return to my first caveat: I've not finished the book's final chapters, yet, and I would surmise that this last section on 9/11's aftermath will prove to be the interesting and volatile. Cheney's legacy will, in the end, be determined by the outcome of what has been called by some the "long war" against Islamic terrorism and its attacks on the United States. That, however, remains to be seen, and may not even be clear for decades to come.