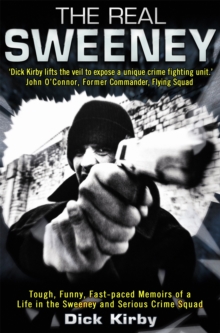 The Real Sweeney
Paperback / softback
Description
From his bruising first experience of giving witness to securing Britain's first ever double-supergrass, Dick Kirby describes with a strong dose of humour the trials and tribulations of over twenty years spent in the Serious Crime Squad and Flying Squad.
Not for him the flabby compromises shown to today's criminals.
Kirby's methods lead straight into the underworld, meeting informants in often dangerous situations, gathering together intelligence before hitting the criminals hard, either when they're carrying out a crime or hauling them from their beds at an unwholesomely early hour.
Whether it's the Kings Cross job that became the worst kept secret in London, or the case of the unhappy bigamist who burst into tears, Kirby tells things the only way he knows - no punches pulled.
His tales of how life in the force used to be in the good old days are sometimes shocking, sometimes blackly funny, and always compelling.
Information
Format: Paperback / softback
Pages: 288 pages
Publisher: Little, Brown Book Group
Publication Date: 24/02/2005
Category: True crime
ISBN: 9781841199115