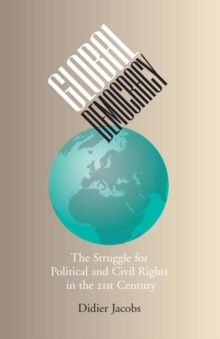 Global Democracy : The Struggle for Political and Civil Rights in the 21st Century
Paperback / softback
Description
This book positions the idea of global democracy - that every human being ought to have an equal say in public policy decisions that affect all humankind - in the mainstream political debate on globalization.
Now that political rights have been secured in many countries for the working class, women, and minorities, it is time for nationals of poor countries to gain political equality in world affairs with Westerners.
To clearly position global democracy as a new and realistic choice, the author contrasts it with four existing approaches to foreign policy: benevolent imperialism (the neoconservatives' agenda); nationalism (balance-of-power politics); multilateralism (support to the United Nations system); and localism (the agenda of part of the global movement for social justice).
Contrary to what other authors on global governance would lead us to believe, Jacobs argues that participatory democracy should be considered a complement to, not a substitute for, representative democracy.
The author combines a critical review of political theory with a practitioner's analysis of what works in international affairs.
Jacobs takes up issues like the crisis at the World Trade Organization, the development of the European Union, reform of the UN, climate change, the debate on ""humanitarian wars,"" nuclear proliferation in Iran, the growth of global activism, and the power of NGOs.
Information
Format: Paperback / softback
Pages: 216 pages, index
Publisher: Vanderbilt University Press
Publication Date: 15/11/2007
Category: Political science & theory
ISBN: 9780826515735
Free Home Delivery
on all orders
Pick up orders
from local bookshops