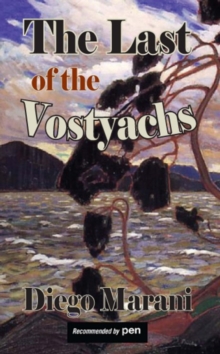 The Last of the Vostyachs
Paperback
Information
Format: Paperback
Pages: 168 pages
Publisher: Dedalus Ltd
Publication Date: 26/04/2012
ISBN: 9781907650567
Free Home Delivery
on all orders
Pick up orders
from local bookshops
Reviews
Showing 1 - 2 of 2 reviews.
Review by SandDune
16/06/2015
Ivan walks out of a Siberian gulag after twenty years when it is abandoned by the guards who are no longer being paid. But when he returns to his home in the remote forest he cannot find any trace of the Vostyachs, the tribe to which he belongs. Struggling to deal with a particularly hard winter Ivan seeks refuge in a village, where he encounters a Russian linguist researching the languages of northern Siberia. And she is even more amazed to encounter a speaker of Vostyach, a language thought to be extinct and one which has never previously been recorded. As Olga Pavlovna gains Ivan's trust and records him speaking she realises that Vostyach forms a missing link between the Native American languages of North America and Finnish and its related languages, and so proves her theory that there were once common languages spoken throughout the lands of the far North. She resolves to take Ivan to the upcoming XXIst Congress of Finno-Ugric in Helsinki. But as she needs to stop in Leningrad she asks an fellow academic Professor Jaarmo Aurtova to meet Ivan in Helsinki and look after him until her arrival. This is where the trouble starts, as the discovery of Vostyach, debunks Professor Aurtova's pet theory that Finnish has been pushed out to the fringes of Europe by barbarian invaders, and has nothing in common with what he views as the primitive languages of North America. And hell hath no fury like an academic whose work of a lifetime has just been discredited... Another beautifully written and slightly surreal book by Diego Mariani focusing on questions of language and identity. And who knew academics could be so vicious in protecting their academic reputation? A short book but highly recommended. 
Review by PhilipJHunt
16/06/2015
Well, what a disappointment for a book so widely and effusively praised. The UPSIDE is Marani's descriptive imagery and occasional fresh metaphor. He also writes the indigenous character of Ivan, the last Vostyach, with believability. The philological stuff is interesting too, if a bit obscure for most of us. The translation is very good - it does read like it was written in English. But the DOWNSIDE is unbelievable plotting and weak characterisation (save perhaps for the aforementioned Ivan). I don't mind if an author asks us to suspend belief from time to time, but every turn of the plot here requires it. And the characters are as shape changing as the Baltic ice. You end up saying "Oh please!" as coincidences pile up. The voice in the letter passages sounds stagey and too formal, as is the section where Margareeta leaves a phone message sounding like it was written by her speech writer. I'm left thinking the book needed a couple more drafts, with attention to the plot.