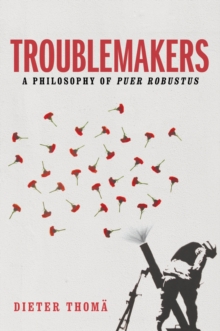 Troublemakers : A Philosophy of Puer Robustus
Hardback
Description
The political crises and upheavals of our age often originate from the periphery rather than the centre of power.
Figures like Edward Snowden, Julian Assange and Chelsea Manning acted in ways that disrupted power, revealing hidden truths that those in power wanted to keep hidden.
They are thorns in the side of power, troublemakers in the eyes of the powerful, though their actions may be valuable and lead to positive changes. In this important new book, Dieter Thom examines the crucial but often overlooked function of these figures on the margins of society, developing a philosophy of troublemakers from the 17th century to the present day.
Thom takes as his starting point Hobbes' idea of the puer robustus (literally "stout boy"), meaning a figure who rebels against order and authority.
While Hobbes saw the puer robustus as a threat, he also recognized the potential, in the correct conditions, for figures to rise up and become agents of positive change.
Building on this notion, Thom provides a rich survey of intellectuals who have been inspired by this idea over the past 300 years, from Rousseau, Diderot, Schiller, Victor Hugo, Marx and Freud to Carl Schmitt, Leo Strauss and Horkheimer, right up to the recent work of Badiou and Agamben.
In doing so, he develops a typology of the puer robustus and a means by which we can evaluate and assess the troublemakers of our own times. Thom shows that troublemakers are an inescapable part of modernity, for as soon as social and political boundaries are defined, there will always be figures challenging them from the margins.
This book will be of great interest not only to students and scholars in the humanities and social sciences but to anyone seeking to understand he crucial impact of these liminal figures on our world today.
Information
Format: Hardback
Pages: 400 pages
Publisher: Polity Press
Publication Date: 12/04/2019
Category: Political science & theory
ISBN: 9781509525584
Free Home Delivery
on all orders
Pick up orders
from local bookshops
Also by Dieter Thoma