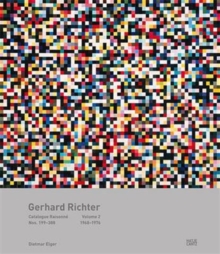 Gerhard Richter Catalogue Raisonne. Volume 2 : Werknummern 199-3881968-1976
Hardback
Description
Gerhard Richter's oeuvre embraces in excess of three thousand individual works.
Over a period of five decades he has created a stylistically heterogeneous, complex body of work that testifies to his status as the most important living artist of our time.
This long-awaited first volume of the catalogue raisonne is being re-leased on the occasion of the artist's eightieth birthday in Febru-ary 2012. Subscription price for complete set: EURO 198.00 per volume.
You will be invoiced with each delivery.