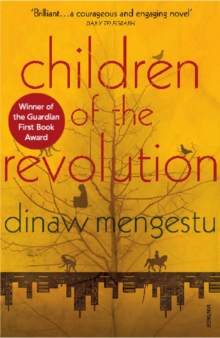 Children of the Revolution
Paperback
Description
Seventeen years after fleeing the revolutionary Ethiopia that claimed his father's life, Stepha Stephanos is a man still caught between two existences: the one he left behind, aged nineteen, and the new life he has forged in Washington D.C.
Sepha spends his days in a sort of limbo: quietly running his grocery store into the ground, revisiting the Russian classics, and toasting the old days with his friends Kenneth and Joseph, themselves emigrants from Africa.
But when a white woman named Judith moves next door with her only daughter, Naomi, Sepha's life seems on the verge of change...
Information
Format: Paperback
Pages: 240 pages
Publisher: Vintage Publishing
Publication Date: 22/05/2008
ISBN: 9780099502739
Free Home Delivery
on all orders
Pick up orders
from local bookshops
Reviews
Showing 1 - 1 of 1 reviews.
Review by Tinwara
16/06/2015
This book came across my way by chance, when I was just lingering around in a big bookstore. I'd never heard of it, or its author, but was attracted by the exotic name of the writer, took it from the shelf, started reading in it a little and just couldn't stop. The book tells the tale of Sepha, who came to the USA as a teenager. He is a refugee from Ethiopia, who however quickly left the Ethiopian refugee community and abandoned the grand American dream of making a great fortune. Instead, he started a small grocery store in a "historic turned bad" neighbourhood in Washington DC. He enjoys reading great literature in his little corner shop, discussing the state of the world, especially of the African continent, with his two African friends, Kenneth and Joe, and otherwise leads a quiet life, perhaps a bit lonely. Then the neighbourhood starts to change. White people with more money begin to move in, joggers are suddenly seen in the streets, the statue at the central circle of the neighbourhood gets repaired. As the historic neighbourhood is being renovated, rents go up, and longtime residents are being forced out. Sepha doesn't take sides in this conflict. Partly because he is not that kind of person, observing more than being an activist. But also because he has befriended his new neighbours, Judith and her daughter Naomi, who comes into the store to read Dostoyevsky with him. The back cover of my edition speaks of a change in Sepha's life, because of this friendship. However, I don't feel it changes him so much. It makes him reconsider who he is, and why he made the choices he made in his life. Despite the open ending, I don't think that Sepha is going to change much. He is just not that kind of person. I thought this was a good novel, giving insight into a migrant's (or: refugee's) life, into the process of gentrification, and into life in a Washington DC neighbourhood. Even though I have never visited this city in my life, the descriptions were so detailed, especially in the part where Sepha leaves his shop and goes for what ends up to be a big hike, that I felt I was walking there myself. I even looked up some of the places at the Internet! It just made me want to go there. What I also liked about this novel was the way the story of Sepha didn't get too sentimental, even though he had a dramatic history and seemed to be a lonely person.
Also by Dinaw Mengestu