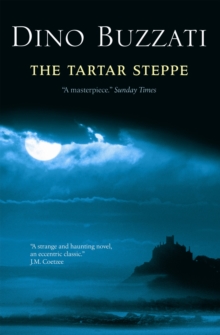 The Tartar Steppe
Paperback
Description
Young Giovanni Drogo arrives at the bleak border area of the Tartar Steppe where he is to take a short assignment at Fort Bastiani, an encampment manned by veteran soldiers who have grown old without seeing a trace of the enemy.
As his length of service stretches from months into years, he continues to wait patiently for the enemy to advance across the desert.
Despite, or because of, the fact that they tell him he is perfectly free to leave, he waits for one great and glorious endeavour.Internationally acclaimed since its publication in 1945, The Tartar Steppe is a provocative and frightening tale of hope, longing and the terrible sorcery of the magnificent gesture.
Information
Format: Paperback
Pages: 288 pages
Publisher: Canongate Books Ltd
Publication Date: 05/04/2007
ISBN: 9781841959283
Free Home Delivery
on all orders
Pick up orders
from local bookshops
Reviews
Showing 1 - 3 of 3 reviews.
Review by shushokan
16/06/2015
Giovanni Drogo is a young officer who has been posted to Fortress Bastiani, a place far from civilisation where we await life rather than have it in our faces. Drogo wants to leave immediately but is persuaded to stay for a short while before he can return without losing face. Is there a threat from the neighbouring state or not? Do we desire the inflow of foreign soldiers across the Tartar Steppe simply to justify our existence. The themes of the book are solitude, decisiveness (or the lack of it), the futility of preparations for war when there is none, the self and the "old guard" who do things that way because they always have been. Buzzati's writing is beautiful, sparse when it needs to be, descriptive of the wastes that Drogo inhabits. As a translation it works exceptionally well and it would be hard to tell, if you didn't know, that it was written originally in Italian.
Review by psutto
16/06/2015
Giovanni Drogo graduates from military academy and is assigned duty at Fort Bastiani on the border of the Tartar Steppe in the mountains, on the edge of a desert. It is an obscure posting and one he is not entirely happy with and one that several people try to dissuade him from. Wanting to leave immediately he is convinced to stay for 4 months by the commanding officer. This is Catch 22 as written by Magnus Mills as Drogo suffers the pointlessness of his posting, the solitude of being so far away from home, apathy combined with duty, insensitive rules poorly applied and an institutional lack of decisiveness taken to the heights of absurdity but held up as an ideal to aspire to. Highly recommended.Overall – sparse yet beautifully told
Review by janerawoof
16/06/2015
One September morning, Giovanni Drogo, being newly commissioned, set out from the city for Fort Bastiani; it was his first posting." Not only is this Drogo's first posting, but his last. The year fly by quickly: "One after the other, the pages turned--the grey pages of the day, the black pages of the night." Drogo is an Everyman figure. The whole novel, through his story and those of the Fort and men, is a meditation on life and death, hope, self-delusion, and glory. I recommend most highly. With the first sentence quoted above begins The Tartar Steppe, a strange but oddly compelling book. We are never told when or where exactly it takes place. Although soldiers in an outlying fort are eager for battle, they spend their banal days and nights on guard duty or at roll call or inspections. Passwords and even the smallest military regulations assume a greater importance than normal. The Tartars are just a legend, Drogo's superior officer tells him. But...are they fanciful or do they really exist? The steppe in the novel is a rocky desert, not grass as we generally think of a steppe. I enjoyed the novel no end. I think the Kafka, Franz or Borges, Jorge comparisons can be carried only so far. These two writers have influenced him, but Buzzati speaks in his own distinctive voice. I thought of the Fort as comparable to Shakespeare's Elsinore, a closed, claustrophobic society. The author marvellously expresses Drogo's feelings and aspirations. We feel for him at each step of his military life. He feels out of place during his leave in the city to see mother and girlfriend and is disappointed to be refused a transfer. Are Tartars building a military road towards the fort as he and a soldier-friend suspect? Are they massing for attack? The book was written in a spare, but exquisite style. The last chapter was especially moving.
Also by Dino Buzzati