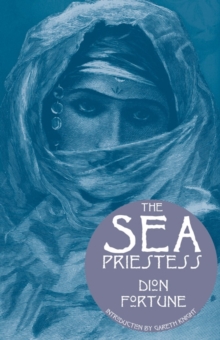 Information
Format: Paperback
Pages: 320 pages
Publisher: Red Wheel/Weiser
Publication Date: 01/06/2003
Category: Myth & legend told as fiction
ISBN: 9781578632909
Free Home Delivery
on all orders
Pick up orders
from local bookshops
Reviews
Showing 1 - 2 of 2 reviews.
Review by thesmellofbooks
16/06/2015
Fortune was a good writer, and I enjoyed this book, despite its getting bogged down periodically by overlong expositions of esoteric philosophy. When that happens, she loses her characters and their stories somewhat; when she gets back on track she is dead on.This is not a complaint against the philosophy, just the tendency to try to make a book both a novel and a treatise. The good writing, and good story, however, outweigh this flaw, and when she gets going, Fortune is really something.
Review by catfantastic
10/11/2015
This is a hard one to rate. There were times where I thought it was one of the most beautiful, amazing books I'd ever read. But there were other times where it dragged, notably the overlong denouement that was less enjoyable - and the rather dense writing is not helped by the formatting of this particular edition (published by Weiser) that has justified borders and tight single-spacing. The main character, Wilfred Maxwell, is stuck in the time period it was written (1930s) so some of his actions/attitudes prove problematic to a modern reader - weirdly, it is as the novel progresses that he gets harder to take.Dion Fortune was a British occultist who's writing and philosophies were influential in shaping modern Wicca. Her work has inspired Doreen Vailente and novelist Marion Zimmer Bradley. I had also heard, prior to reading this, that she used her novels as a way of giving examples for the occult practices/philosophies found in her other writing. So I found it interesting, first of all just for those aspects. But her writing is quite lovely on its own. Even if you don't know the history, I believe there is a lot to be enjoyed in this novel. First, the good: I found <i>The Sea Priestess</i> enchanting, with its gentle leisurely pace, depictions of the English coast and the stormy sea, the old fort being transformed into a temple and Wilfred and the enigmatic Morgran Le Fay's curious relationship. Wilfred was a character I found very believable and easily relatable when we first meet him. Morgan Le Fay was distant and strange, but then she is supposed to be and that is all part of the fun. Wilfred is a quiet man, trapped in a decent but boring job in a tiny English town where he supports his bitter and unpleasant sister and mother and has never really had the chance to have a life of his own. After developing asthma and having an out-of-body experience as a result of the attacks and medication he begins to cautiously explore some esoteric writings. He also gains a little space from his domineering family by relocating to an old set of stables and turning them into a cozy home for himself. These small steps set him on the path to be ready for his meeting with Vivien Le Fay Morgan (later called Morgan Le Fay) a woman who should be ancient but appears beautiful and intensely mysterious. She enlists Wilfred to help her transform an old abandoned fort by the sea into a temple to the gods of the sea. Wilfred begins to experience visions, wherein a past life she was a priestess from Atlantis who journeyed to England to perform human scarifies to the sea to save Wilfred's people and he was one of the sacrifices. She was also <i>the</i> Morgan Le Fay from Arthurian legend.Unfortunately, Wilfred by the end of the novel is strangely unsympathetic. Although we modern readers can cheer him for standing up to his domineering relatives, it is much less comfortable for us when he, say, smacks his sister in the face. And although I liked that he used Morgan's teachings to then in turn help Molly grow, there was something condescending and just . . . odd? in his feelings towards her. I really could have done without the long Wilfred/Molly denouement.Some quotes:<i>"And I saw that man's life is spun like a thread between irresistible forces that with a breath could destroy him, but that nevertheless, from them he draws his strength.For there is in the earth a reservoir of elemental force, just as there is a fountain of life beyond the far stars, and from the violence of the sea the violence of man's own nature draws its energy even as he draws breath from the air, for all things are but one thing at the last analysis and there is no part of us that is not of the gods."</i> (p.120) <i>"Then I saw why there must be priestesses as well as priests; for there is a dynamism in a woman that fecundates the emotional nature of a man as surely as he fecundates her physical body; this was a thing forgotten by modern civilization which stereotypes and conventionalizes all things and forgets the Moon, Our Lady of Flux and Reflux."</i> (p. 136)<i>"It is women like Morgan Le Fay, who will not give themselves to any man completely, who are best-loved, not the women who give their all. <b>Love is one of those things in which to travel hopefully is better than to arrive.</b>"</i> (p.136)<i>"There is a curious power in silence when you think alike without word spoken and each knows the other's thoughts. As long as nothing is said, the thing you are thinking remains in another dimension and is magical, but as soon as you speak it, you lose it. It is the old story of the jewels bought in the goblin market, which you must only look at by moonlight or you find them to be a handful of dead leaves."</i> (p.153)