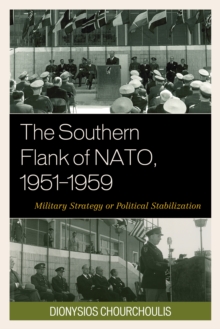 The Southern Flank of NATO, 1951-1959 : Military Strategy or Political Stabilization
Hardback
Description
In 1951-52, the North Atlantic Treaty Organization established the Southern Flank, a strategy for the defense of the eastern Mediterranean in the Cold War involving Italy, Greece, and Turkey.
Among its many aims, the Southern Flank sought to mobilize these countries as allies and integrate them into the Western defense system.
Throughout the 1950s, the alliance developed the Southern Flank and in 1959 it was finally stabilized as fractious Greek-Turkish relations were improved by the temporary settlement over Cyprus. The Southern Flank of NATO, 1951-1959: Military Strategy or Political Stabilization examines, among other things, the initial negotiations of 1951-52, the Southern Flank's structure and function and relative value in NATO's overall policy, and the alliance's response to the challenges in the eastern Mediterranean in the early Cold War.
It explores not only the military aspects of the Southern Flank, but also the more controversial political aspects: the admission of Greece and Turkey to NATO, the short-lived military cooperation between these states and Yugoslavia during 1953-55 and the effects of the deterioration in Greek-Turkish relations from 1955 due to Cyprus.
It also focuses on the part played by other major members of the alliance, principally the United States and Britain, in Southern Flank politics and strategy.
Thus, it considers how the United States and the U.K. viewed the power balance between the three Southern Flank members and how the Americans sought to influence affairs through financial, military and technical assistance, including the construction of U.S. bases in Italy, Greece, and Turkey. The book also assesses the threat posed to the Southern Flank at various points by rising tensions in the Middle East.
More generally, the book illuminates the complexities of intra-alliance dynamics in a region full of Cold War tensions.
However, in its Middle Eastern/Eastern Mediterranean neighborhood, it was not only the Cold War that provided tensions, since the Arab-Israeli dispute and the tensions of decolonization further complicated the picture.
Thus, the study of the Southern Flank is a test case of a Cold War theater which was subjected to additional historical pressures, creating a nexus of problems which the Western Alliance needed to address within its effort to respond to the various challenges of the Cold War.
Information
Format: Hardback
Pages: 290 pages, 4 maps
Publisher: Lexington Books
Publication Date: 18/12/2014
Category: European history
ISBN: 9780739193051
Free Home Delivery
on all orders
Pick up orders
from local bookshops