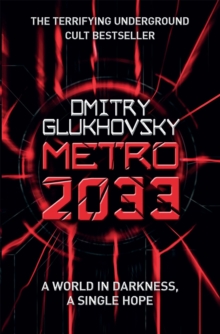 Description
The year is 2033. The world has been reduced to rubble. Humanity is nearly extinct. The half-destroyed cities have become uninhabitable through radiation.
Beyond their boundaries, they say, lie endless burned-out deserts and the remains of splintered forests.
Survivors still remember the past greatness of humankind.
But the last remains of civilisation have already become a distant memory, the stuff of myth and legend.More than 20 years have passed since the last plane took off from the earth.
Rusted railways lead into emptiness. The ether is void and the airwaves echo to a soulless howling where previously the frequencies were full of news from Tokyo, New York, Buenos Aires.
Man has handed over stewardship of the earth to new life-forms.
Mutated by radiation, they are better adapted to the new world.
Man's time is over.A few score thousand survivors live on, not knowing whether they are the only ones left on earth.
They live in the Moscow Metro - the biggest air-raid shelter ever built.
It is humanity's last refuge. Stations have become mini-statelets, their people uniting around ideas, religions, water-filters - or the simple need to repulse an enemy incursion.
It is a world without a tomorrow, with no room for dreams, plans, hopes.
Feelings have given way to instinct - the most important of which is survival.
Survival at any price.VDNKh is the northernmost inhabited station on its line.
It was one of the Metro's best stations and still remains secure.
But now a new and terrible threat has appeared. Artyom, a young man living in VDNKh, is given the task of penetrating to the heart of the Metro, to the legendary Polis, to alert everyone to the awful danger and to get help.
He holds the future of his native station in his hands, the whole Metro - and maybe the whole of humanity.
Information
Format: Paperback
Pages: 464 pages
Publisher: Orion Publishing Co
Publication Date: 01/04/2011
Category: Science fiction
ISBN: 9780575086258
Free Home Delivery
on all orders
Pick up orders
from local bookshops
Reviews
Showing 1 - 3 of 3 reviews.
Review by SMG-JHayne
16/06/2015
I did not like this book, the constant references to the stations made it very hard to understand
Review by fothpaul
16/06/2015
Another one that seemed to go other my head quite a lot, and also ending up annoying me.Firstly I enjoyed the premise of the book immensely. I usually really enjoy survival post-apocalypse style books and thought that the idea behind this one would make it a great read. Unfortunately it really didn't engage me and left me a bit confused. It took me a long time to get through as I wasn't finding myself particularly interested.I felt the translation to be quite poor, with many mistakes and a general lack of flow to the story, although having not read it in Russian it's hard to know if this was the translator's or the author's fault.I especially don't enjoy elements of magic being involved in stories out of the blue, and although I appreciate that many of the seemingly magical events might have mrely been in people's heads things like aggressive goop that eats people, hypnotising cannibals and dark things that get in people's heads just left me cross.The ending felt a little shallow as well and left me feeling even more annoyed with the book than I had been previously. Overall a massive dissapointment as I was hoping for so much more.
Review by SheilaCornelisse
16/06/2015
This novel follows the quest of a young Russian, Artyom, who was orphaned as a child and brought up in the Soviet metro system after the world is devasted by nuclear war.Artyom possesses a special ability to "communicate" with the dark spirits lurking within the tunnels and metro stations. Sent on a mission to reach the station at Polis and deliver a secret message, Artyom meets and loses many acquaintences along the way. He also encounters an assortment of mutant and deadly creatures who have evolved from the effects of radiation exposure.I found this story to be more interesting in the first half but my interest began to dwindle near the end when the author begins to philosophy and, in my opinion, ramble. I also did not care for the ending.Overall, this is a pretty good read and, because there is now a video game based on the novel, a good bet for a reluctant reader.
Also by Dmitry Glukhovsky