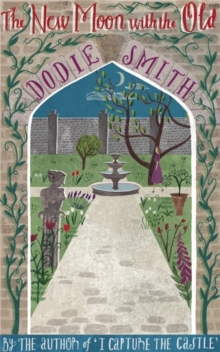 The New Moon With the Old
Paperback
Description
From the author of I Capture the Castle and The Hundred and One Dalmatians, an unusual adventure in which humour and more than a touch of strangeness are inextricably blended.
When Jane Minton arrives at Dome House as a secretary-housekeeper, she finds herself sharing the comfortable country home of four attractive young people.
Their charming widower father, Rupert Carrington is too occupied with his London business to see very much of them. Richard, the eldest, is a composer; Clare, whose true talents (if they can be called that) have not yet disclosed themselves, dreams of courtly romance; Drew is collecting material for a novel; and Merry, still at school, has her heart set on a stage career. Jane is warmly welcomed into this happy household and feels her luck is too good to be true.
However, the private world of Dome House is fated to break up as Rupert flees England under threat of prosecution for fraud.
He asks Jane to break the news to the children, who must now fend for themselves, and to do what she can to help them.
However, the Carringtons are extremely unusual young people and the story of the eclectic choices they make next is an absorbing and unpredictable one.
Information
Format: Paperback
Pages: 384 pages
Publisher: Little, Brown Book Group
Publication Date: 20/12/2003
ISBN: 9781780333007
Free Home Delivery
on all orders
Pick up orders
from local bookshops
Reviews
Showing 1 - 2 of 2 reviews.
Review by AnnaKay21
16/06/2015
The way it ended felt VERY abrupt. So I can't quite give it five stars, but it was a really wonderful book. It felt like something Jane Austen may've written if she'd been alive in the 1960s. It had some very interesting characters and I ended up truly enjoying that it wasd split into five parts - one for the story of each main character, with interludes for Jane (the new housekeeper/secretary). My only complaint is that almost right when you begin to desperately love a character, their portion of the story is over!!! So therefore, great book but I wish there was a lot more of it to go around!
Review by libbromus
10/11/2015
You think you have first-day-on-the-job woes? Nothing doing compared to Miss Minton. She's hired as secretary and near-instantly becomes surrogate parent to 4 teens/young adults, housekeeper, cook, working single-mom, adviser, and criminal co-conspirator. And that's day 1. As the kids begin disappearing to find their own way, she must decide to keep up the empty nest or shutter it or rent it out. And it's not even her house! I loved the chapters on the children's escapades. They are believably farcical and heartwarming and adventurous. This would make an excellent feature film.