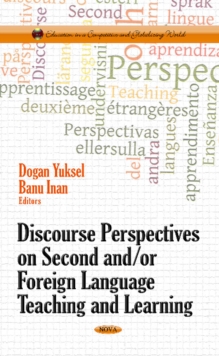 Discourse Perspectives on Second &/or Foreign Language Teaching & Learning
Hardback
Description
Discourse can be understood as the sum of linguistic usages and metalinguistic manners about a social practice.
It examines language-in-use with the help of the tools that would enable us to get a deeper understanding of what is said or unsaid.
Analysis of discourse would help us understand social, cultural, psychological and academic dynamics that are interwoven in the utterances of interlocutors as they use language.
This book covers a range of theoretical and applied studies on the examination of discourse in various second and foreign languages learning and teaching contexts.
Basically, it includes studies that specifically focus on different aspects of discourse in the teaching of all four skills; reading, writing, listening and speaking.
Three theoretical chapters on conducting discourse analysis research, the use of corpus linguistics and historical review of discourse analysis perspectives enrich the scope and content of the book.
Researchers from different teaching and learning settings, including Turkey, China, and the USA, contributed to this volume.
The target audience of the book are undergraduate and graduate students in different foreign and second language departments, and teachers, researchers and academicians of foreign and second languages. "Discourse Perspectives on Second and/or Foreign Language Teaching and Learning" will facilitate the understanding of discourse by portraying empirical and theoretical studies on discourse.
It covers quite different perspectives (eg: sociocultural theory of mind perspective, critical discourse analysis and psychological and/or mainstream perspectives) of various topics in discourse (eg: classroom interaction, written discourse, corpus linguistics, oral interviews, discourse of blogs, technology and discourse, etc).
The first three chapters provide a review of discourse and how it is conceptualised to various target groups of people (e.g., graduate students, teachers, researchers and academicians) assuming no prior knowledge.
The other chapters focus on different aspects of discourse both in and outside the classroom.
This book provides teachers, learners and researchers of second and/or foreign languages with the tools to analyse and/or examine language inside and outside their classrooms.
Information
Format: Hardback
Pages: 138 pages
Publisher: Nova Science Publishers Inc
Publication Date: 01/11/2013
ISBN: 9781628088670