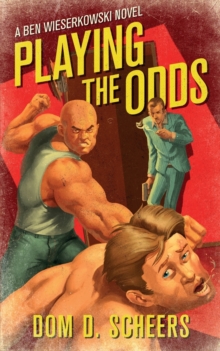 Playing the Odds
Paperback / softback
Description
Ben Wieserkowskihad planned to start small. Some adultery, maybe a child abduction, perhaps, if he stretched himself, a straightforward murder. Nothing too complex. But he'd been suckered by a smart mouth and a great pair of legs and though he knew he wasn't much of a Private Detective, he reckoned his good luck could go a long way in making up for his lack of skill.
The problem was it turned out to be a setup. He'd copped a severe beating, but a couple of Freddy's goons had to be laying in traction – at least one of them must have been in the burns unit. Somehow he had rescued her kid and saved Marcy's life, and in so doing had taken down his first psychopath. With the check, he'd signed a six-month lease and figured he could concentrate on writing the novel he knew was inside of him. That was before his front door was kicked in and two gun-wielding ass-hats started shooting at him.
Now Ben finds himself between the Italian Mob and the Chinese Gangs and even his limited detective skills can figure out he's in a world of hurt. Can he uncover the murky goings-on in Fog City's corrupt underbelly before the criminals and every bent cop on the streets come gunning for him, or will Playing the Odds cost him more than a broken coffee table and a busted shoulder?
Information
Format: Paperback / softback
Pages: 250 pages
Publisher: Leschenault Press
Publication Date: 23/05/2019
Category: Crime & mystery
ISBN: 9780648519812
Free Home Delivery
on all orders
Pick up orders
from local bookshops