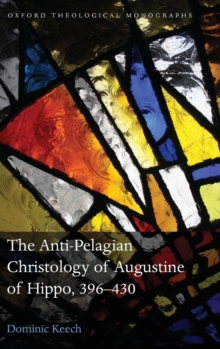 The Anti-Pelagian Christology of Augustine of Hippo, 396-430
Hardback
Description
Evading established accounts of the development of doctrine in the Patristic era, Augustine's Christology has yet to receive the critical scholarly attention it deserves.
This study focuses on Augustine's understanding of the humanity of Christ, as it emerged in dialogue with his anti-Pelagian conception of human freedom and Original Sin.
By reinterpreting the Pelagian controversy as a Western continuation of the Origenist controversy before it, Dominic Keech argues that Augustine's reading of Origen lay at the heart of his Christological response to Pelagianism.
Augustine is therefore situated within the network of fourth and fifth century Western theologians concerned to defend Origen against accusations of Platonic error and dangerous heresy.
Opening with a survey of scholarship on Augustine's Christology and anti-Pelagiantheology, Keech proceeds by redrawing the narrative of Augustine's engagement with the issues and personalities involved in the Origenist and Pelagian controversies.
He highlights the predominant motif of Augustine's anti-Pelagian Christology: the humanity of Christ, 'in the likeness of sinful flesh'(Rom. 8.3), and argues that this is elaborated through a series of receptions from the work of Ambrose and Origen.
The theological problems raised by this Christology - in a Christ who is exempt from sin in a way which unbalances his human nature - are explored by examining Augustine's understanding of Apollinarianism, and his equivocal statements on the origin of the human soul.
This forms the backdrop for the book's speculative conclusion, that the inconsistencies in Augustine's Christologycan be explained by placing it in an Origenian framework, in which the soul of Christ remains sinless in the Incarnation because of its relationship to the eternal Word, after the fall of souls to embodiment.
Free Home Delivery
on all orders
Pick up orders
from local bookshops
Also in the Oxford Theological Monographs series | View all