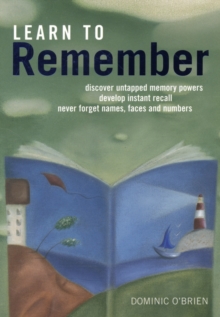 Learn to Remember
Paperback / softback
Description
Where did you leave the car keys? What is the name of the new person in accounts? When is your partners birthday? There are many times in the normal day when we rack our brains to remember simple things, now memory master Dominic O'Brien has the answer. "Learn to Remember" is a unique illustrated guide to enhancing your memory, featuring tried and tested practical techniques for combating forgetfulness.
Whether you want to improve your memory at home, in your relationship, at work, or when you study, there is a technique in this guide to help you.
With visualisation systems that can be customised to the individual, this really is a book that can help anyone remember better.
Other Formats
Paperback / softback from £5.49