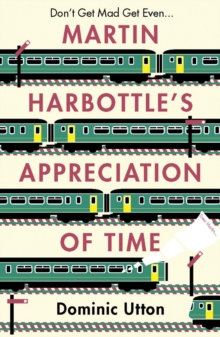 Martin Harbottle's Appreciation of Time
Paperback
Description
Dan's got a new job. But he's moved out of town in order to start a family and has been commuting into London every day.
After fourteen months of the trains either making him late for work or late getting home, he's had enough and decides it's high time that Martin Harbottle, the Managing Director of Premier Westward trains, heard about it.
As it turns out, Dan has plenty of time to fill and a lot to say: his work for the troubled paper recently caught up in allegations of 'unethical practices', his rocky marriage and the struggle to adjust to new parenthood.
Before long, his forthright opinions on just about everything find their way into his emails.
But when Martin begins to respond, a hilarious - and extraordinary - correspondence begins.
Information
Format: Paperback
Pages: 352 pages
Publisher: Oneworld Publications
Publication Date: 02/01/2014
ISBN: 9781780743721
Free Home Delivery
on all orders
Pick up orders
from local bookshops
Reviews
Showing 1 - 2 of 2 reviews.
Review by atticusfinch1048
16/06/2015
Funny But Oh So TrueDominic Utton has hit on a winning novel with Martin Harbottle's Appreciation of Time, this novel is based up on the email of Daniel who has to commute in from Oxford to London on a "premier-westward" service and decides to email the Chief Executive every time his service is late. This is the novel that all commuters want to write about their terrible, and unfortunately it is often commute in to work on our great train network. How often have we spoken to customer services and just wanted to cry in despair at their lack of service or care. This is a novel for those who have often heard the train announcer come out with the "Such and Such rail would like to apologise for the .... (late/cancelation) of the service to/from ... I have heard that announcement that often that I now have loyalty cards for a large number of coffee shops to pass the time as I wait – in hope – for the next service.Dan our protagonist emails Martin Harbottle with a well written email equating to the length of time that the delay or cancelation has taken out of his day. Those minutes that we will never get back, he makes sure his email is the length of the delay. These musings are often funny incisive and speaking for all of us. At the same time Dan who works as a tabloid journalist on a Sunday red top that is in trouble with the courts and the police for some of their underhand methods. He and his wife a nurse who has just given birth are living in the commuter belt so that they can make their way on to the housing chain. The only chink in his armour is the commute the train is either late or cancelled and never is a customer told the reason. Using his journalist tactics he finds the MD's email and hence begins a long email correspondence bring all manor of subjects for discussion.This is a funny book if read on your daily commute will mean there will be quite a few train company CEOs awaiting your email for your late arrival in our capital and elsewhere. Oh train company bosses you should read this it might even make you smile instead of just taking our cash and giving us poor service. Great book, great read for the commuter!
Review by shelleyraec
16/06/2015
Martin Harbottle's Appreciation of Time is a funny and engaging novel, written in epistolary format, consisting of emails between Dan, a frustrated commuter, and Martin Harbottle, Managing Director of Premier Westward Trains.A tabloid journalist, with a wife and newborn daughter at home, Dan is fed up with the continual delays he experiences during his daily commute between London and Oxford and, after fourteen months, demands a explanation from Premier Westward Trains customer service. When he receives no reply to his repeated queries, Dan tracks down the private email address of Martin Harbottle, Managing Director, and decides he will send the man an email every time he experiences a delay, with the length of the email to be equal to that of the delay he experienced whether it by 5 minutes, 12 minutes, or 17 minutes – the idea being that he would waste the same amount of his time as the train service had wasted his.At first, Dan's emails to Martin express his frustration at the poor service he endures, but soon Martin becomes Dan's (mostly) silent confessor, as he shares everything from his musings about his fellow commuters – Train Girl, Lego Head and Universal Grandfather, to the distress of his strained marriage, to the looming crisis at his workplace, The Globe, loosely based on the disgraced 'News of The World'.Martin's replies are often officious and dispassionate, briefly providing Dan with explanations for the delays his experiences, variously vandalism, late employees, or faulty signal boxes. But every now and then he engages with Dan with response to a question or a word of solicited advice.I was surprised at just how much I enjoyed Martin Harbottle's Appreciation of Time. Dan is eminently likeable, and his emails are full of keen observations, snarky wit and a just enough middle-class/ middle age angst to be both funny and poignant. I expect this novel would capture the imagination of many a commuter, no matter the mode of transport, it did mine.**Note: For two years journalist Dominic Utton commuted between Oxford and London on First Great Western trains. In late June 2011, after 14 months of paying around £450 a month for utterly appalling service, he decided to speak up. Every time his train was delayed, he wrote to the Managing Director and Director of Communications for FGW trains – and the length of his email reflected the length of that day's delay. He shared these missives on his blog, Letters to First Great Western and they are the inspiration for the novel, Martin Harbottle's Appreciation of Time.
Also by Dominic Utton