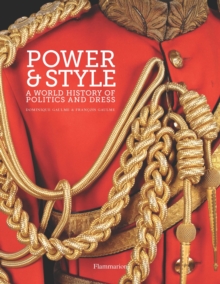 Description
From the birth of clothing to modern menswear, this work reveals fashion's role in monarchies, military regimes, dictatorships, and the birth of democracy.
From the advent of the first civilizations along the Euphrates, Indus, and Nile Rivers, as well as in China, clothing has not only offered protection from the elements, but has served as an expression of political power and its allocation throughout society.
From tribes to royalty, dictatorships to democracies, one's manner of dressing reveals as much about a society's structures as about the different identities and communities that it encompasses.
From ceremonial dress to fur coats, tribal paint, feather headdresses, or even grass skirts, finery conveys the power of its wearer.
While so-called "naked" societies use ocher, feathers, Tapa cloth, or shells to demonstrate social standing, elsewhere gold, pearls, and other precious materials may be used to show an individual's importance.
By studying the evolution of costume throughout history, we gain insight into the changes at the heart of communities, from East to West, via the first peoples of Africa and the Amazon basin. The desire to dazzle and differentiate oneself via excessive luxury and adornment, or conversely the wish to conform, one's regalia says as much about an individual as about the society in which they live as leader, king, or ruler.
This volume covers the vast spectrum of regalia and the powerful figures who have worn it throughout the ages.
From the ceremonial robes of Chinese emperors, to the painted Nubas in Africa, via the trends of different European courts that gave rise to the modern male suit, the social aspects of clothing are explained in detail in this richly illustrated volume.
Information
Format: Hardback
Pages: 288 pages, col. Illustrations
Publisher: Editions Flammarion
Publication Date: 05/11/2012
Category: Fashion & style guides
ISBN: 9782080201355
Free Home Delivery
on all orders
Pick up orders
from local bookshops