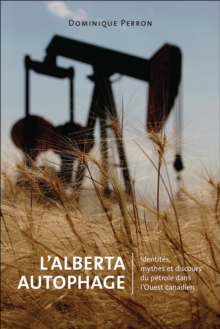 L'Alberta Autophage : IdentitA (c)s, mythes et discours du pA (c)trole dans l'Ouest canadien
Paperback / softback
Description
Cet ouvrage presente une analyse discursive des recits identitaires albertains developpes par rapport aux ressources petrolieres de l'Alberta, au fil de l'histoire moderne de la province.
Par le biais des theories d'analyse du discours, on examine comment les medias canadiens et albertains ont presente les phenomenes historiques des booms et busts petroliers, et plus particulierement comment l'industrie petroliere canadienne a su recuperer les parametres de l'identite albertaine pour suggerer une etroite association d'interet entre la communaute de l'Alberta et les divers groupes exploitant son petrole.
Pour ce faire, l'auteure etablit des comparaisons entre les discours de l'energie issus du Quebec et ceux de l'Alberta, en faisant reference A la culture populaire et A la litterature classique. The stories of Alberta identity that evolved along with the development of the province's oil resources, over the course of Alberta's recent history, fuel this analysis of discourse.
The author uses theories of discourse analysis to explore how the media in Canada and in Alberta have presented historical boom and bust phenomena in the oil industry, in particular, how the Canadian oil industry has built on characteristics of Alberta identity to create a close association of interests linking the Alberta community and oil producers.
She draws on popular culture and classical literature to compare the discourse on energy in Quebec and Alberta.
Information
Format: Paperback / softback
Pages: 400 pages, b/w illus
Publisher: University of Calgary Press
Publication Date: 16/05/2013
Category: History of other lands
ISBN: 9781552385760
Free Home Delivery
on all orders
Pick up orders
from local bookshops