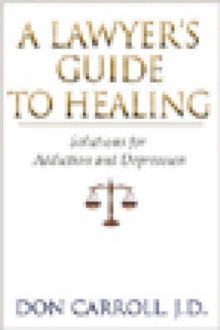 A Lawyers Guide To Healing
Paperback / softback
Description
The definitive self-help guide for lawyers in recovery from addiction and depression "Any lawyer or judge struggling with addiction, depression, and other problems-or assisting those who are-must read the wise and instructive book." Judge Carl Horn, author of Fourth Circuit Criminal Handbook and Lawyer Life: Finding a Life and a Higher Calling in the Practice of Law "As a lawyer speaking to other lawyers, Don Carroll provides a simple, straightforward, and very wise primer about addiction." Stephanie Brown, PH.D., author of A Place Called Self: Women, Sobriety, and Radical Transformation and director of the Addictions Institute, Menlo Park, California "This book is a gift of guidance and inspiration to lawyers seeking healing from addiction and depression and to those offering help." Al J.
Mooney, M.D., coauthor of The Recovery Book. "Don Caroll provides a wealth of information regarding impairment and recovery, while never losing sight of the human side of the equation." Michael Cohen, executive director of Florida Lawyers Assistance, Inc., and member of the Florida Bar Standing Committee on Professionalism.
Stress, power, and high expectations of the legal profession leave lawyers especially vulnerable to addiction.
What's more, personality traits that contribute to a lawyer's success-among them, grandiosity and a need to control-can impede recovery.
As director of the North Carolina Lawyer Assistance Program, Don Caroll has helped hundreds of colleagues overcome addiction and depression.
In this candid and insightful book, Carroll discusses addiction in general, how addiction affects lawyers specifically, and how recovery can help lawyers reclaim their professional and personal lives.
Information
Format: Paperback / softback
Pages: 208 pages
Publisher: Hazelden Information & Educational Services
Publication Date: 15/09/2006
Category: Coping with illness
ISBN: 9781592853793
Free Home Delivery
on all orders
Pick up orders
from local bookshops
Also by Don Carroll