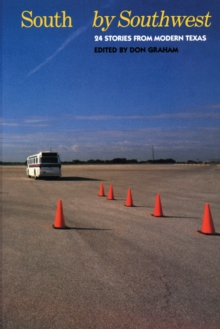 South by Southwest : 24 Stories from Modern Texas
Paperback
Description
These Texas stories are among the best produced by the state's writers in the mid-twentieth century.
Selected above all for their artistic excellence and their narrative mastery, they also present a vital picture of the Southwest in microcosm, as revealed in its largest state.
Texas and Texas writing moved from a Southern orientation in the 1940s-reflected here in works by William Goyen, William Humphrey, and others-to the strong Southwestern flavor of stories by such authors as Larry McMurtry and A.
C. Greene to, finally, urban or Sunbelt Texas, mirrored in the edgy, sometimes experimental prose of Doug Crowell, William Harrison, and Peter LaSalle.
Here are stories by such celebrated authors as Paul Horgan and William A.
Owens, as well as startling, in some cases previously unpublished work by writers like Harryette Mullen, Naomi Shihab Nye, Pat Ellis Taylor, and Thomas Zigal.
A few stories may already be favorites-Larry McMurtry's "There Will Be Peace in Korea," Amado Muro's "Cecilia Rosas." Many others have become classics, such as Vassar Miller's poignantly autobiographical "Pact," Hughes Rudd's hilarious record of grade school fieldtrips, R.
E. Smith's gripping story of a Houstonian's life-changing encounter with nature, and Dave Hickey's astonishing account of an old cowboy's imprisonment ...in a bathtub.
Bill Brett, James Crumley, Linda West Eckhardt, Robert Flynn, Mary Gray Hughes, Carolyn Osborn-all are represented here by stories guaranteed to banish stereotypes and boredom and to enlarge one's vision of the Lone Star State.
Anyone who thinks that oil wells and big hair define Texas will find out differently in the dazzling short fiction presented in South by Southwest.
Information
Format: Paperback
Pages: 300 pages, black & white illustrations
Publisher: University of Texas Press
Publication Date: 01/04/1986
ISBN: 9780292776012
Free Home Delivery
on all orders
Pick up orders
from local bookshops